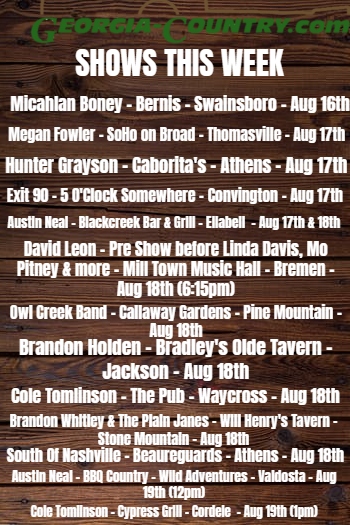 News: Luke Bryan first country act to play Dodger Stadium (Natl News page)
Check out new videos below from Jason Aldean and Jason, Luke & Charles with Darius
State News: Electric Cowboy in Kennesaw to close, maybe relocate (Statewide News page)
Read Hunter Flanagan's interview with Peter Noone (Crystal Peach Page)
Read our newest CD Review: Never Been To Nashville - Lyn Avenue (Reviews page)
Check out Jason Aldean's new video "You Make It Easy" Part 3 below!
Pictures and/or videos Check out latest pictures in our gallery!
Photography on Georgia-Country.com can not be copied or used without authorization from Georgia-Country.com. Please email us at info@georgia-country.com if you are interested in any of our pictures.