Cobb Country Nights
Cobb Country Nights will be a monthly country dance at the VFW in Acworth, located at 4764 Cobb Parkway (Hwy.41).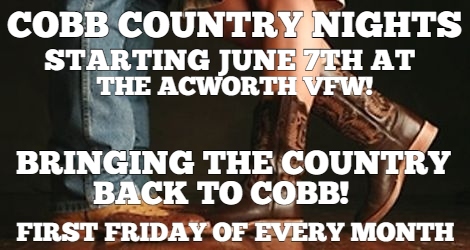 Cobb Country Nights will be on the 1st Friday night of every month, starting June 7th. (We will have the July dance on July 12th instead of the 5th, because of the holiday weekend). Doors will open at 7 with dance lessons at 7:30 then open dancing from 8 to midnight. The dance will be 95% country hits from the classic country to today's country hits, but mostly 90's country. There will be plenty of songs to two step, swing dance, waltz, chacha and line dance. We also will feature some barn type dances like Schottische, Wild Wild West, The Laredo, Long Branch Hustle, etc. Debra Cleckler, one of the top dance instructors in Georgia will be teaching (unless otherwise noted). At the start, ALL the dances will be just DJ music. We MAY add bands later if its called for. The venue will have bar food from hotdogs, burgers, cheese steaks sandwiches and nachos. Complimentary popcorn. Also, full bar service with most common house beers, mixed drinks, shots and margaritas. The venue is also NON SMOKING with a smoking area in front and back. There will be plenty of parking in front, side of the building and an adjacent parking area as well in front of Cedarcrest Church. (please do NOT park on the grass in any areas). The venue is handicap accessible as well. 21+ to enter.
Admission will be $10 at the door. Tables CAN be reserved below for 6 people at $60.00. Just click on the date you want a table reserved below and follow the steps. Once purchased, you'll receive an emailed confirmation with directions. Just keep the confirmation on your phone or a print out with you to show the door person.
JUNE 7th - Opening Night
Come out for OPENING NIGHT of Cobb Country Nights. This also will be The Electric Cowboy Reunion.