DAVID LEON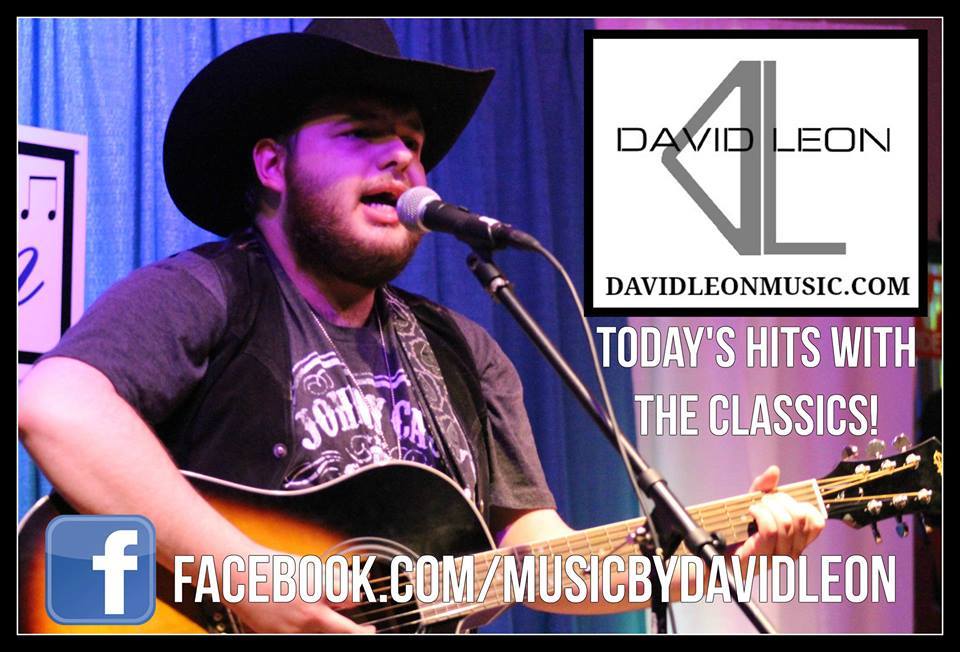 David Leon is a 25 year old singer / songwriters from Dacula, GA, now based in Cumming, who began his music career in his mid teens. Over this time, David has gained not only state, but national recognition by winning top honors in the Teen category in both Country and Gospel music. Included in his many awards over the past few years are Vocalist, Songwriter, and Entertainer of the year, as well as being voted one of the top 10 favorite 2010 Atlanta Country Artists by the fans, in that year's Country Atlanta Poll. David's original song "Waylon" has also been featured on www.countryatlanta.com as the Local Luminary Country Song of the Month (Jan 2012). Besides playing at venues such as the Wild Horse Saloon, Hard Rock Nashville, Hard Rock Atlanta, Hard Rock Memphis, and Hard Rock Gatlinburg, David has also received radio play on Atlanta's 94.9 The Bull's Backyard Country radio show. David was nominated by Georgia-Country.com for 2012, 2013, 2014, 2015, 2016, 2017 & 2018 Male Artist of the Year. He recently was showcased at The Crimson Moon's Songwriter Showcase.
Links:
To LIKE and FOLLOW David Leon on Facebook, go to David Leon Facebook

Twitter
ReverbNation
Soundcloud
Bandcamp
David is the May 2018 GC Featured Artist of the Month. Read his interview with GC below
GC: David, lets get Georgia more familiar with you. Where you you born, raised and current family life?
DL: I was born in San Diego, California, raised in Dacula, Georgia, and my family now resides in Cumming, Georgia.
GC: Who was your earliest influences in country music?
DL: I remember my sister playing Tim McGraw, Toby Keith, and Kenney Chesney CD's in the car before I rightly knew who they were.
GC: Was there any one "moment" that you decided to be a country music singer?
DL: I knew I wanted to make music my life after getting a standing ovation from the church I was attending after singing "Three Wooden Crosses" by Randy Travis.
GC: You have a traditional feel in your music? Do you think country music will get back to mostly traditional, on the radio, etc.
DL: My hope is that it will one day get back to a more traditional feel since we have artists like Chris Stapleton making it on the radio.
GC: What has been your favorite place to play over the years and why?
DL: My favorite place to play is a tie between the Wild Horse Saloon in Nashville and the Hard Rock Cafe in Atlanta. The Wild Horse because it's the biggest honky-tonk there is, and the Atlanta Hard Rock because the musicians are in a room where the doors are open to the streets which allows anyone and everyone to enjoy the music.
GC: If you could OPEN UP for any one artist, past or present, who would that be and why?
DL: For a past artists, I would probably pick Johnny Cash. Two men in black are better than one. As for a present artist, it would have to be Josh Turner. Him and Randy Travis are two of the biggest reasons I got into country music to begin with.
GC: If you had just ONE wish for your music career, what would that be?
DL: That people leave feeling better than when they first got there. I might not be able to help with whatever they might be going through, but, for a moment, I was able to put a smile on their face and let them forget about their worries.