HUNTER FLANAGAN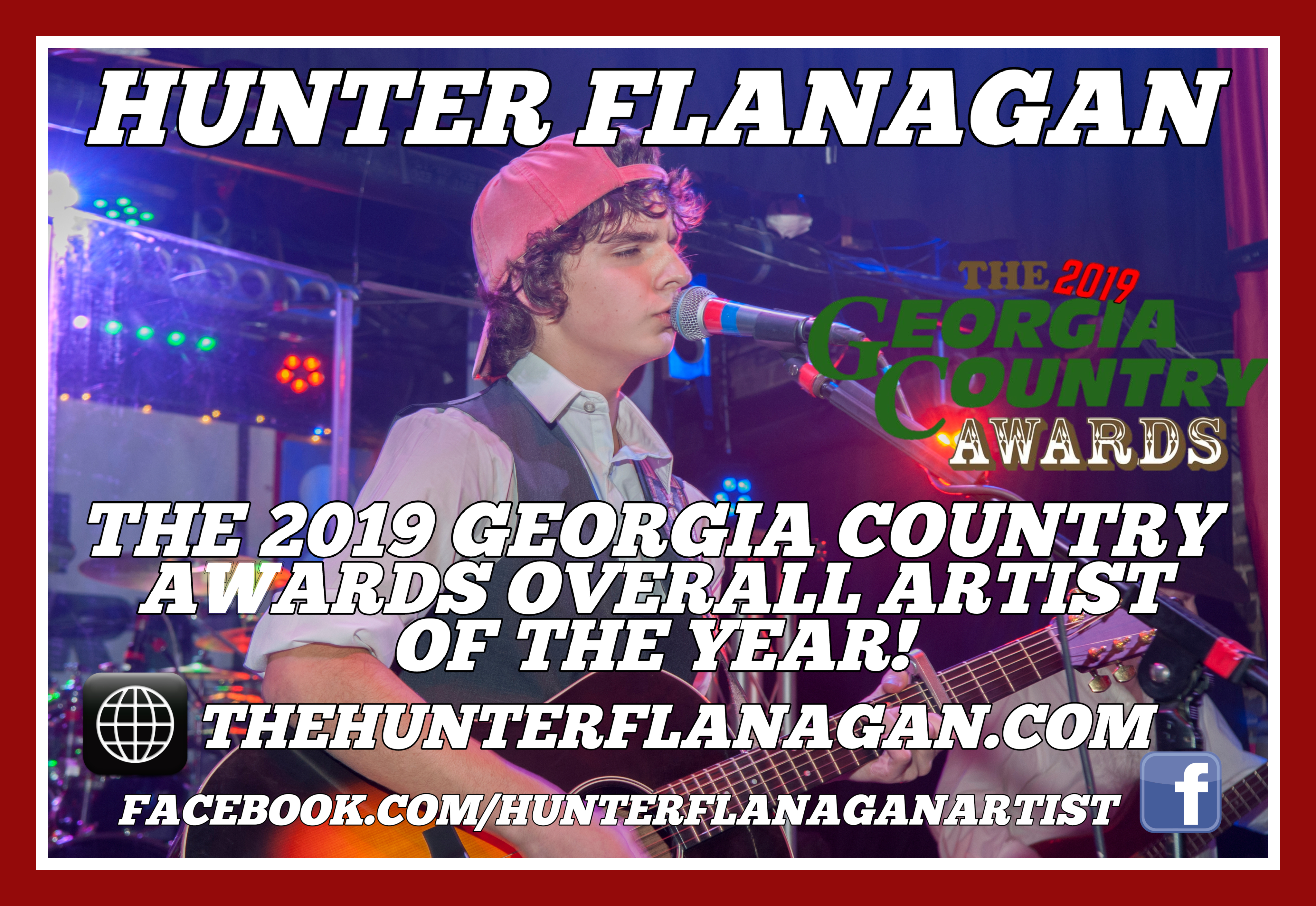 Hunter won the 2020 Georgia Country Awards Overall Artist of the Year at the awards show at The Crazy Bull in Macon, on Nov 13th, repeating his win from 2019.
The GCA Panel, consisting of industry leaders in Georgia in the music industry, felt that Hunter had the best year in 2020 and 2019 and did the most to further is career. Hunter is based in the Carrollton, Ga area. He's a 21 year old singer that sings country, and traditional music. He has been the opening act for famous music acts, including Country legend Gene Watson, and Miss Rhonda Vincent. Hunter has performed over 40 solo performances across the southeast in the last 2 yrs. Hunter had a weekly solo show at Six flags over Ga, during summer 2014. He has been featured at Mill Town music hall, in Bremen Ga. He plays the guitar and ukulele.  In June of 2017, he placed second in the 2017 Georgia Country Teen Talent Search at Sixes Tavern in Cartersville. He has experience playing in local Georgia venues to Nashville as well. In Sept of 2018 Hunter won four awards in the Creative Loafing Best of Atlanta. He won Best Overall Act, Best Live Act, Best Country Act and Best Vocalist. In November of 2018, Hunter won The Georgia Country Awards Teen Artist of the Year at the Awards show at The Crazy Bull in Macon. As of September of 2020, Hunter is a finalist in the Georgia Country Awards for Male Artist of the Year in the 2020 Georgia Country Awards. In the 2020 International Singer Songwriter Association, Hunter was the USA Young Adult Artist of the Year and top 5 finalist. He was the only finalist in these awards from Georgia. He performed over 300 shows since 2019 and opened for Confederate Railroad & Mark Wills. Has appeared on Atlanta & Co TV show mulitple times and various radio shows around the state and internet radio as well. He has also broadened his musical talent on stage with now playing the guitar, ukelele, banjo, drums, harp, mandolin, fiddle and harmonica.
So far in 2022, Hunter is a finalist in The ISSA Awards for Entertainer of the Year, Emerging Artist of the Year, Songwriter of the Year, Music Video of the Year and Rising Star of the Year awards. Also, on July 13th, he became a Semi Finalist in the 2022 Georgia Country Awards for Male Artist of the Year. Also in 2022, Hunter was name Best Of Finalist in local papers of the Times Georgia, Haralson County, Villa Rica and University of West Georgia.
FAN QUOTES: "We went to see Hunter Flanagan tonight at Gustons, He is AMAZING!! We just love him! Hope to see him here in Woodstock more!! Thanks Hunter! Thanks Gustons!!" - Sheri - Aug 27th, 2017
Fan quote from Cypress Grill on Sept 10th: Sarah Thomas reviewed Cypress Grill -- 5 star. September 12 at 2:51pm · Fleeing hurricane Irma my family and I stopped by on Sunday to get out of the rain. WHAT A TREAT we were in for! You had a young man singing Hunter Flanagan. He was JUST AMAZING he didn't care that it wasn't A Big crowd he gave us a CONCERT, our Waiter was such a nice young man and the food was perfect! We were able to forget about the hurricane for just a little while THANK YOU, SARAH, THOMAS
Links: