OWL CREEK BAND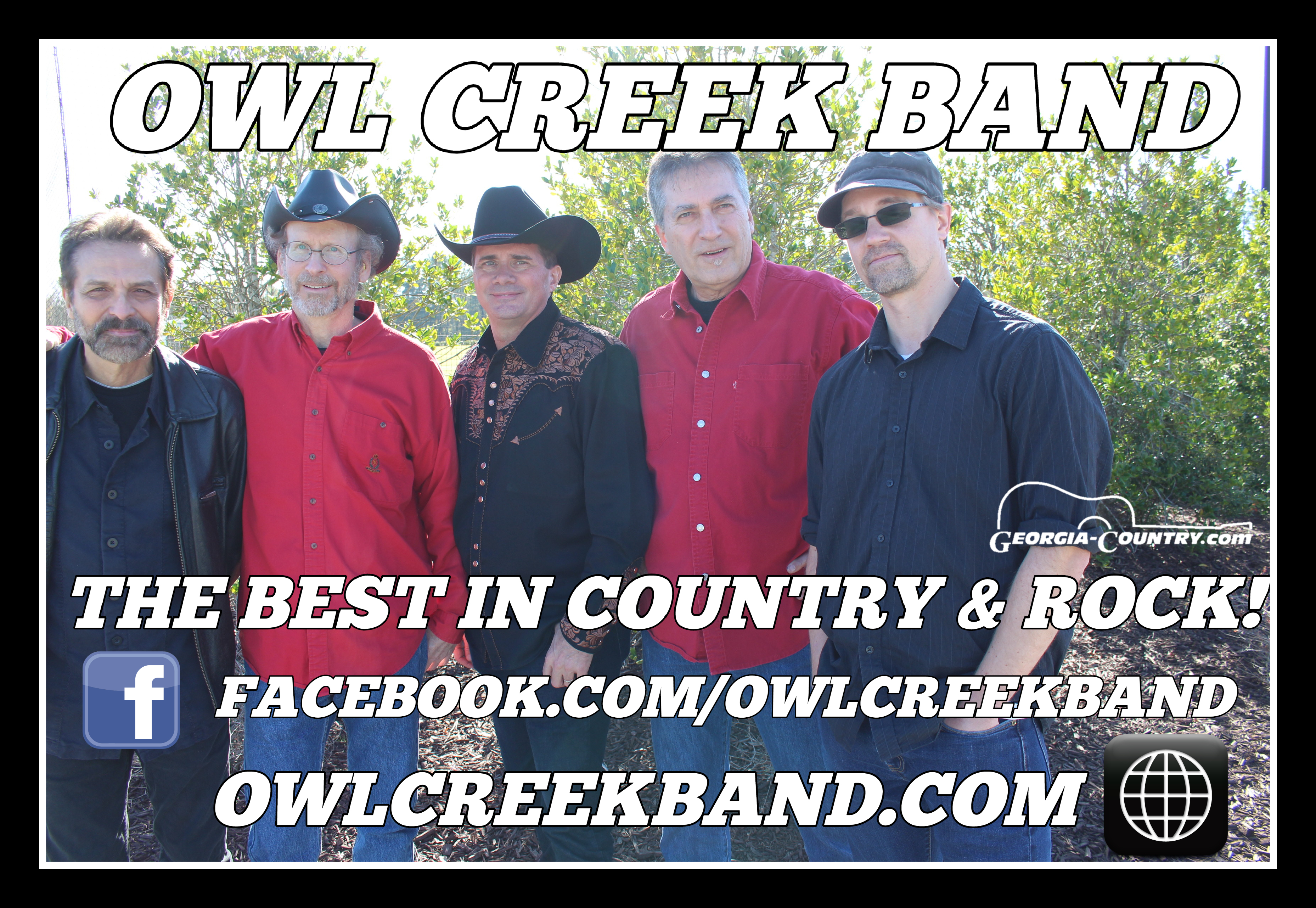 Owl Creek Band plays covers from the 70's through the current decade with a focus on 70's and 80's country and Classic Rock. Fun, versatile band with Danceable music. They are based in the North Atlanta area. They are now a regular band playing at many venues and events almost every weekend, from Rome to Atlanta to Blue Ridge. They are open to travel for the right event. The band is also very versatile and can play from a 4 or 5 piece band to a acoustic set up trio. The band is lead by lead singer Chuck Wysoki with James Watson as backup and also lead vocals. Don Martz on bass and Scott Kenner on drums. The band members are all seasoned and professional musicians that give 100% in every peformance. Their goal on stage is to provided quality entertainment for any venue or event. They have played at some of the largest venues in Georgia, such as Roccos, Mad Life Stage & Studio, Club 201 and as well as the North Georgia Ag Fair in Dalton, Callaway Gardens, FansGiving Festival in Emerson and other festivals and special events.
Links:
CUSTOMER REVIEW - "James and his team with the Owl Creek Band went above and beyond. They even found me a line dance instructor to teach my party guests how to line dance. If you want 80s, 90s country and and all around great band...LOOK NO FURTHER! THESE GUYS ARE THE BEST! THANK YOU!!!" - Trolley Barn - Decatur - Aug 24th, 2018
Owl Creek Band is Georgia-Country.com's Spotlight Artist - August 2018. Below are 10 questions from GC, for the band to get to know the band better.
GC: Tell us when the band first started and what prompted you all to put together a band?
OCB: Owl Creek Band first started in 2008 in my basement as a jam band for fun. We began to play Country and Americana music and started playing together at local coffee shops and outdoor events. We all loved music and enjoyed playing with other people. Often the band would host events where other musicians played and we met many friends that we still stay connected with today.
GC: Where did the name "Owl Creek Band" come from?
OCB: I lived in and house in South Cherokee County, GA and behind the house there was an old Gold Bearing creek named Owl Creek which flowed into Lake Allatoona. Often on the weekend I would hike the area and pan for gold. Never found much gold in that particular creek but when the band started playing out we needed a name and so it was a natural fit.
GC: Did you start out wanting to play country or added it later?
OCB: I lived in Nashville as a teenager and always loved country music. I had the opportunity to meet and hear some great musicians from the 60's and 70's who loved the music. Later I was hooked on the country music of 80's and 90's. The band started out as a Country band, but also play some Americana and a few Bluegrass and Gospel tunes. When the crowds became more diverse they begin requesting it, we started playing Classic Rock and Blues Music. Also the band had progressed by that time to be able to play a more diverse and technically challenging group of songs.
GC: What was some of the early hurdles when putting together the band?
OCB: Wow, we had to simply learn everything. I had no experience in putting together a band, and really new very little about the music scene or even playing a show. We had to learn to recruit and develop a team of diverse players, perform a show, book and gig, develop media and was not event an experienced singer or musician myself. During the first part of the band's life I also moved out of state for about 2 years, and during that time I formed another band. However, when I return to GA, we we stuck with it and picked up some incredibly talented musicians and singers along the way. The best advice I can give to anyone starting a band is to stay patient, keep working and listen to those who are experienced at it. Persistence can overcome many obstacles.
GC: You all play at many venues around north Georgia. What has been your favorite to play at thus far and why?
OCB: That's a hard one to answer for sure because we love to play at some many great places. However, outdoor venues are wonderful. The weather is always a factor but when the crowd is listening and you can play loud without any natural reverb, it is a great experience. There is really no one location that has been the better than others, and we enjoy playing anywhere, indoors or outdoors, that the crowd is enjoying the music. We appreciate all of the owners who support live, local music.
GC: When it comes to learning a new song, how do you decide what song to learn?
OCB: Many of the songs we learn are done by request from the fans during a show. We often get asked to play something that perhaps not all of the band members will know. Given a few minutes between sets to look over the song on a tablet, the band can often pull it together and play it during the next set. If the song goes over well, we often end up adding it to our regular set list.
GC: You all stay pretty busy as a band. Is the schedule what you like or would like to play more?
OCB: We would always like to play more but we find that there is a happy balance between life, work and music. When we push too hard the music suffers so we try to take off at least one weekend per month. Many of the band members also like to Hike, Fish and other enjoyable things! We sometimes play two shows in a weekend, but we do limit the time of the shows so we are fresh and ready to play for the benefit of the crowd. Owl Creek will sometimes play two 4 hours shows in a weekend and travel up to 2 hours one way to a show. We have a real team of guys who love to play and they stay busy. Many of our members also play with other bands or with church groups so they can often play 4 or more times in a week.
GC: What tips would you give to anyone out there wanting to start a band?
OCB: would say they should start small and then play as many places as possible. Find people who share your vision and strive to be a good band leader by helping people find what they are seeking in music. It is all about team work and surrounding yourself with winners. I appreciate the help given to us by Dan Seals of Georgia-Country.com . It is always important to have smart people around you who have experience in the area your working. They can help you avoid many issues an connect you with other people who are part of the musicians network.
GC: You all are a balanced mix of country and classic rock. Why genre do you lean more toward?
OCB: Give the choice the band will play Classic Country from the 60's and 70's simply because we all love the songwriting and the incredibly musical texture of that era. However, Classic Rock shares a lot of songwriting similarities with lyrics, notes, chords and licks that are not really that different. Today we always try to watch the crowd and if something moves them, we play more of it. Music is for both the musician and the listener and we want to connect to our audience.
GC: If there was one wish for the band, what would that be?
OCB: We all wish we could just play full time! Seriously it would be to play to more people and keep improving the music. With Owl Creek it truly is about the music. Nothing moves us like a great song and if we can play it better and learn more of them, life is good. We are just thankful to have the opportunity to play music together and hopefully pass on some of that joy to others we meet.