Georgia-Country.com Artist of the Month
On a monthly basis, Georgia-Country.com spotlights a Georgia artist that we feel is furthering their career in country music. Below is our current artist of the month. We hope you enjoy reading their interview and getting to know this artist more. Be sure to check out their music, videos and schedule for the month. If you are a Georgia-based artist, 18 and over, and would like to be considered for Artist of the Month, please contact us with your name and a website to review.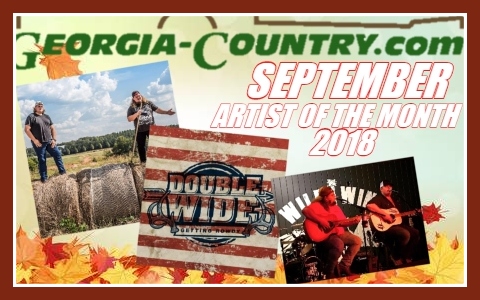 Our September Artist of the Month is the duo, Double Wide. Read their interview below as GC catches up with them and discuss their career. Then check out their music in videos at bottom of page.
GC: Guys, lets get Georgia more familiar with you. Where are you all born, raised and now live?
DW: Joe - Born in Springfield Illinois; raised and still living in Loganville, Ga , Chris - Born in Montgomery Alabama now lives in Winder.
GC: Tell us your early influences in country music or music in general?
DW: Grew up on classic country and classic rock. Kinda where our sounds meets.
GC: Where did the name "Double Wide" come from?
DW: Both of us were originally playing in another band but went out for some fun doing an open mic night . While we were on stage; a buddy of ours came up with the name after he had drank one too many and was watching us play . So once we started playing shows it just stuck and people loved it . It's always a good conversation starter.
GC: How would you all describe your style of country music?
DW: There is only way I can describe it . It's truly our own and it's music that you could listen to while drinking a beer with your buddies but we also have some songs that are more geared toward the female demographic . We try to span our music over so many different kind of sounds.
GC: You two use to be in a band called "Five Speed", that was a high energy show. Does that still continue with Double Wide?
DW: Absolutely! Considering 60% of the band Five Speed is now Double Wide I'd say that energy is still alive and well !
GC: You two play often. Where is your favorite place to play and why?
DW: It's really had to pick our favorite place to play honestly . The fans can truly turn a smaller venue into one fun ass time ! We just love playing music . Once the crowd gets into it and gives that energy back; we are in love !
GC: If you had just ONE wish for the duo,, what would that be?
DW: To just continue doing what we are doing ! Keep having fun ! We would love to be apart of an event that helps us give back to our communities or helps families in need . We were gifted a talented and we would love to use it to help somebody else.
GC: If you guys could OPEN for any one act, past or present, who would that be and why?
DW: That is a tough question ... we aren't really sure . We've opened up for some wonderful people who were awesome to be around ! I don't think we could pick just one. lol
GC: Do you have original songs and if so, where does the inspiration come from?
DW: We have a whole bunch of original music that we've both written together, by ourselves, or with some close friends of ours . We get our music from real life stuff ! Doesn't matter if it's heart-aches, weekend fun, missing somebody, having some drinks, falling in love . That's what country music is three chords and the truth .
GC: With a few more months left in the year, what is the duos plans for rest of the year?
DW: This year has really flown by and been full of excitement and new things for us ! Thank you to anybody and everybody who has supported us through this journey of ours ! We have some festivals we are working with right now and we would love to keep recording music so we have it out where y'all can go listen to it at anytime ! Oh and maybe just maybe get some down time to hit the woods this season!
For more information on Double Wide go to Double Wide on Facebook