Georgia-Country.com Artist of the Month
On a monthly basis, Georgia-Country.com spotlights a Georgia artist that we feel is furthering their career in country music. Below is our current artist of the month. We hope you enjoy reading their interview and getting to know this artist more. Be sure to check out their music, videos and schedule for the month. If you are a Georgia-based artist, 18 and over, and would like to be considered for Artist of the Month, please contact us with your name and a website to review.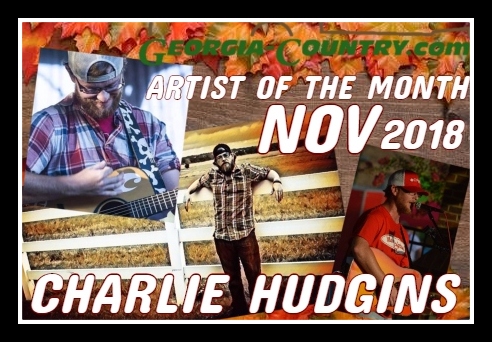 Our November Artist of the Month is Charlie Hudgins. Read his interview below as GC catches up with him and discuss his career. Then check out his music in videos at bottom of page.
GC: Charlie, lets get Georgia familiar with you. Where were you born, raised and a little bit about your current family.
CH: I was born in Carrollton, Ga and raised in Franklin, Ga. And I am married to an amazing woman and we have a son and a daughter.
GC: What or who was your earliest influence in music?
CH: I got into guitar because of Metallica. But I got into songwriting because of Bob Dylan and John Prine. I have so many influences it's hard to name them all.
GC: When did you do your first performance in front of a crowd?
CH: I played a talent show when I was 16 and got 3rd place! My first show was at The Alleycat in Carrollton when I was 20 years old.
GC: So far in your career, what has been the funnest show you've ever played and why?
CH: I would say Summerfest in my Hometown. It's a big 4th of July celebration. And it was very awesome getting to play for the town that I was raised in.
GC: Tell us about making the video for "One Red Light"?
CH: It was an amazing experience. Acea Lashley and Joseph Parsons of Hendley Road Entertainment directed it. And I basically gave them the concept that I wanted. It being filmed in Franklin was definitely my main goal. The song is about how I was raised and the things that I love because of that. It was very strange and awkward though lip syncing in public lol. I got a few strange looks from people.
GC: What has been the highlight of your career so far?
CH: I'd say being able to do it full time. That's the most rewarding part. The highlight would be the supporters and the fans. I have an army of people in my corner. And if not for them I wouldn't have a career.
GC: What is your #1 goal when you walk out onto a stage at each show?
CH: That each person there, takes me serious as an artist. And that they have a good time. My favorite part of playing shows is meeting new people. I want to hear their stories just like I show them mine.
GC: What inspires you most in your songwriting?
CH: Being real and authentic. I think at the end of the day people can tell if you're being phony in your writing. I think mainstream country really has gotten fake lately. And people...I think....are starting to see through that. So I just approach writing from a realistic and honest perspective.
GC: If you could OPEN up for one artist, past or present, who would that be and why?
CH: John Prine! He taught me that it was ok to be real, and funny, and sad, and angry all in one song. Listening to his albums you will experience a wide array of emotions. And he is definitely my favorite songwriter.