Georgia-Country.com Artist of the Month
On a monthly basis, Georgia-Country.com spotlights a Georgia artist that we feel is furthering their career in country music. Below is our current artist of the month. We hope you enjoy reading their interview and getting to know this artist more. Be sure to check out their music, videos and schedule for the month. If you are a Georgia-based artist, 18 and over, and would like to be considered for Artist of the Month, please contact us with your name and a website to review.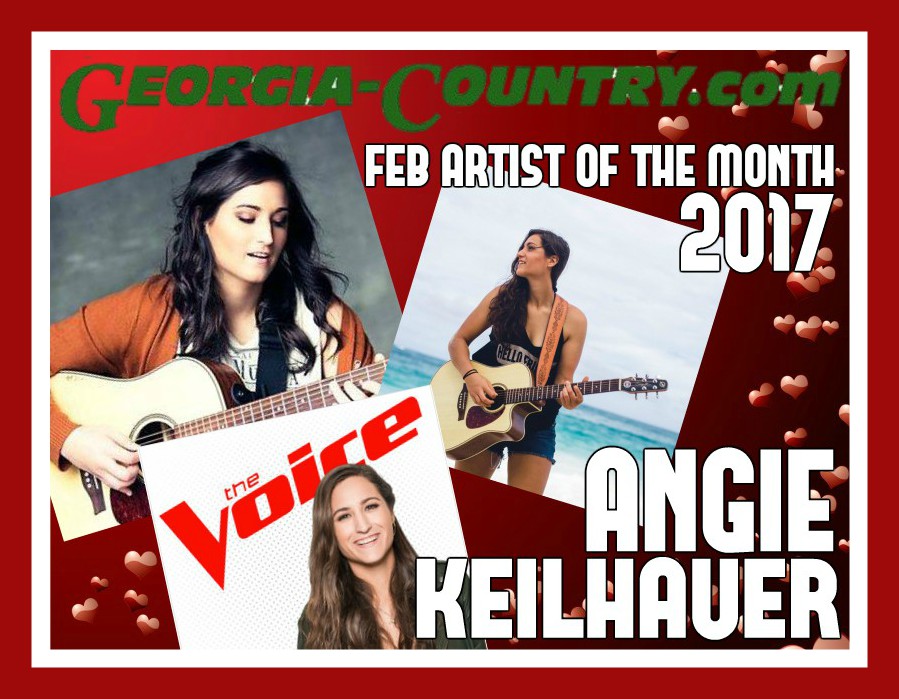 Our Feb Artist of the Month is Angie Keilhauer. Read her interview below as GC asked her questions about her career in country music.
GC: Angie, let's get Georgia familiar with you. Tell us where you were born, raised and a little bout your current family life.
AK: I was born in El Salvador but moved to Marietta, Georgia when I was little. I have two incredible parents going on 40 years of marriage and four amazing sisters who I can count on for anything in the world. My family is loud and crazy and mine. Wouldn't have it any other way!
GC: Early on, what do you think you was your earliest influence in music?
AK: My earliest influence in music was hands down Dolly Parton. My mom introduced me to her when I was just a kid and used to spin her records ALL the time. I loved to hear her tell me stories of why she loved certain songs and fuse them with stories of her own childhood. Those records honestly feel apart of my family history now- it's the kind of honest, genuine music that inspired me to write.
GC: What was your experience performing on the Carnival Cruise Lines?
AK: Right before I got that job I was working at a salvage yard, going to college, and playing bars on the weekend. I was totally floored when I got the call: "Someone just quit, can you come to Miami in two weeks?". I had never been on a cruise ship, I didn't even have luggage! So I took a duck-tape duffel I found at goodwill and my beat up-guitar- and held my breath. Every day I played four hours, and every day I thought someone would find me and say, "Hey, who hired this girl, she's not a pro?". I never took guitar lessons, I didn't know the first thing about reading music. So I learned. Every time someone asked for a request I didn't know, I promised to learn it the next day. I became the musician I am today because of those hours spent practicing and playing, day after day. After that six month contract, I sat next to a woman on the flight home who asked me what I did for a living. I said "I play and sing for Carnival Cruises". She gave me this big smile and said "Oh how cool, so you're a professional musician?!". I took me a second, but that's when it hit me. I was doing it, I was finally there. I was living the dream.... "Yes, that's exactly what I am". And it's exactly what I've been since.
GC: Who in country music do you most relate with?
AK: I love anyone that tells stories that say something to me...that requirement kind of pulls me in to all kinds of country. I love Dolly, Johnny, and Skynyrd. I adore Miranda Lambert. I love anyone that I can listen to and feel like their music is who they are.
GC: Do you have your own original music and if so, what one thing inspires you to write mostly?
AK: My last two albums have been all original music I've written. I've been so lucky to have fans that support original music and continue to let me write and create. I love the process of sitting down and pulling words, creating or re-creating a scene in my head, defining every vivid detail then watching that come to life in a song. The one thing that inspires me to write more than anything else is hearing how something I wrote affected someone who took the time to listen. Sometimes I'll be working late on logistics or emails at 3am somewhere across the country, I'll start feeling the wear and tear of the road...then I see a message from a fan or a friend telling me how one of my songs became part of their lives in one particularly important moment to them. All the hard parts of my career just melt.
GC: Has there been one show that has been your favorite and if so, what was that?
AK: Singing on The Voice was pretty incredible, but the live audience was only about 150 or so- and none of them knew who I was or what my original music sounded like. When I came off the show I invested all my savings from touring and maxed my credit cards to make the album I had always dreamed of making. A few people told me I was absolutely crazy. To be honest I felt crazy. But something inside me knew I had to do it, to see if maybe these things, these songs, that felt so close to my life, might actually be something people would want to listen to. I was a wreck of nerves the day of the release June 24th. The 'Wild EP' hit #5 on iTunes Singer-Songwriter in the first three hours. I was floored. Literally. Like, possibly fainted. That same day I had an album release concert in my hometown Marietta, GA. There were about 300 people there, and they knew EVERY word to these songs I poured literally everything I have into. There were a few moments I honestly had to hold back tears on stage. That concert will forever be one of the greatest memories of my career.
GC: You were on the tv show, The Voice, last year. What was that experience like?
AK: Getting to work with Blake, Gwen, and Miley was absolutely incredible. I've always been such a work horse, constantly seeking out opportunities and throwing myself at them. Filling my calendar with as many shows as possible. There was one point off-camera when I was writing down a summary of the rehearsal. Blake came by, smiled and said, "What are you doin?". I told him I was writing down a checklist for the next day. Then he said something like, "There's absolutely nothing else you need to do to that song. You need to learn to have fun". And he took my paper out of my hands and walked away! I was at first annoyed to be honest, then I totally realized he was right. Some of my best memories of that entire experience was sitting in those hotel rooms and jamming until 3am with a group of the most talented people I've ever met.
GC: If you could go on tour with any one artist, who would that be and why?
AK: Hmmmm. Luke Bryan!
GC: If you could have just ONE wish come true for your music, what would that be?
AK: I think a lot of artists, women in country especially, tend to have a harder time saying exactly what they want. There's a kind of fear of saying out loud a wild and crazy dream that might sound impossible. I've never been that way. My dream, my goal, is to stand on stage in front of a stadium full of people singing my songs to a crowd full of strangers who know the most intimate words inside my heart- and sing them with me. The thought of sharing the most vulnerable of feelings in the form of music in front of thousands of people almost makes me dizzy. I get a taste of it every night on tour. I'm addicted to it. The people that continue to let me do what I do, the fans of country music, I live for them. They fill my soul more than I ever thought possible, it's electricity. The more people want me to sing, the more I'll stay glued to the road. The more I'll keep dreaming up this wild and crazy dream.
GC: What plans do you have for 2017?
AK: My favorite thing about my job, is there is always something really exciting to look forward to. My next big release will be my music video for 'Born to Drive'. I almost didn't put it on the album, but changed my mind after so many friends and fans told me they really thought I should cut it. Turns out it's easily one of the most popular songs on the album- so I have quite a few people to thank! I don't wanna give away too many details for the vid, but picture about a hundred friends out in the desert with their tricked out trucks and a few coolers of beer. It's gonna be fun. Ya'll can check it out on 02/18! After that, I have quite a few other things I can't talk about just yet, but I definitely think 2017 is gonna be the most exciting year yet:)