Georgia-Country.com Artist of the Month
On a monthly basis, Georgia-Country.com spotlights a Georgia artist that we feel is furthering their career in country music. Below is our current artist of the month. We hope you enjoy reading their interview and getting to know this artist more. Be sure to check out their music, videos and schedule for the month. If you are a Georgia-based artist, 18 and over, and would like to be considered for Artist of the Month, please contact us with your name and a website to review.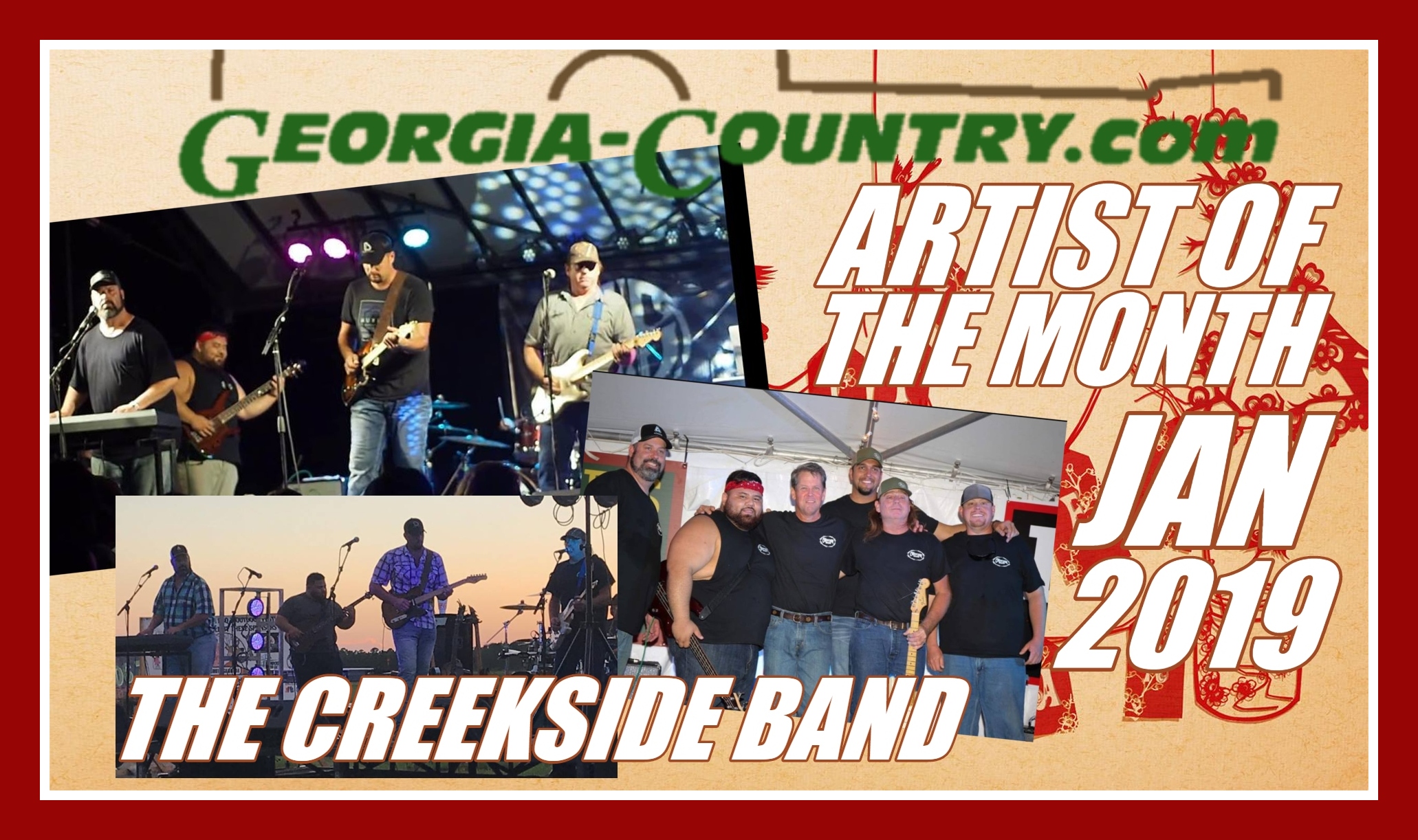 Our January Artist of the Month is The Creekside Band. Read their interview below as GC catches up with them and discuss their career. Then check out their music in videos at bottom of page.
GC: Take us around the band and tell us who the members are and what they play.
CSB: Bryan Hall - Lead vocals / Rhythm Guitar, Rick Cox - Lead guitarist / Vocals, Chris Davis - Drums, Jared James - Bass & Michael Johnson - Keyboard / Vocals
GC: When and how did the band come together?
CSB: Back in 2008 we began as a group of friends just getting together on the weekends playing music together for fun. Over time we all just got busy with our own lives and quit playing for a while. Then in 2016 a friend of ours called and asked if we would be willing to get the band back together to play for a surprise birthday party. After that event we started getting request to play other parties until we started getting request for festivals and night clubs. We realized that we needed a lead guitarist. After consulting with a friend of ours he recommended a former band mate, Rick Cox.
GC: Where did the name "Creekside Band" come from?
CSB: The Practice Shack as we call it is located a few hundred yards from where the heart of Puddin' Creeks flows.
GC: You play mostly country music. What was the reason you wanted to do country? >/p>
CSB: We play country music that ranges mostly from 1950's to 90's Country. It was the music we were raised up on.It' I'm not trying to down today's Country music but they just don't make music like the music that was produced in that those 40 years. Kind of like Garth Brooks said, " Somebody's got to play that country, that ain't never coming back."
GC: When the band is on stage, what is the number one goal of the band?
CSB: Engaging the crowd and making sure they are having a great time. No matter the size of the crowd, it doesn't matter if there is 5 or 500. The energy the crowd has most of the time is based off what the band is giving them.
GC: You all play often. Where is your favorite place to play and why?
CSB: LL Creek Bar & Grill in Waycross Georgia. It would have to be due the atmosphere created by Mrs. Lita and her amazing staff she has there!
GC: What would the funniest story that the band was part of?
CSB: A local venue had booked a band with a name similar to ours and promoted the event using our picture and info. It turned out the person in charge of booking the bands had mixed our numbers up with the other band. In the end everything worked out for both bands and the situation got sorted out.
GC: If you had one advice to any NEW bands out there, what would that be?
CSB: If you want to have a successful band you have to understand that there is business side of things. And for any business to be successful everyone has to do their part. Lucky for us we've all managed to keep that mind set and understand that what it takes for us to have what little success we've had.
GC: If the band could OPEN for any one BIG act, who would that be and why?
CSB: That's easy! Mr. George Strait, he is the king of Country!
GC: With 2019 now here, what is the band's plans for the new year?
CSB: We want to expand our playing area and hopefully make our way back to the Georgia Country Music Awards. We were a 2018 Band of the Year Finalist and even had the honor to share the stage with a lot of talented acts.