Georgia-Country.com Artist of the Month
On a monthly basis, Georgia-Country.com spotlights a Georgia artist that we feel is furthering their career in country music. Below is our current artist of the month. We hope you enjoy reading their interview and getting to know this artist more. Be sure to check out their music, videos and schedule for the month. If you are a Georgia-based artist, 18 and over, and would like to be considered for Artist of the Month, please contact us with your name and a website to review.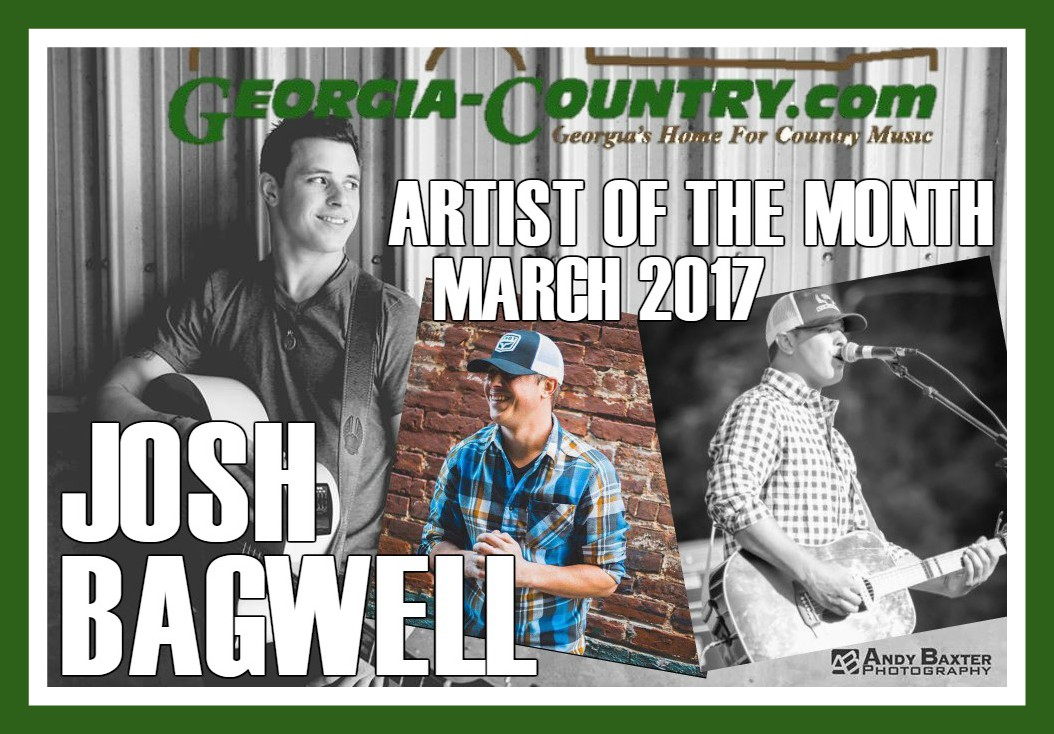 Our March Artist of the Month is Josh Bagwell. Read his interview below as GC asked him questions about his career in country music.
GC: Lets get Georgia more familiar with Josh Bagwell. Where were you born, raised and what is your current family like?
JB: I was born and raised in Calhoun, Ga and still currently live in Calhoun. I have been Married to Magen for almost a year now and we have 3 dogs that are like our children. 2 labs and a wiener dog.
GC: Who influenced you the earliest in your music?
JB: I grew up listening to country. My favorites as a young kid were Alan Jackson, Garth Brooks, Brooks and Dunn, Travis Tritt to name a few.. I still have tons of their records and still play them all the time, their music is just timeless to me. ill take a 90's country play list over anything its my favorite.
GC: People always compare young artist to other bigger names. Have you been compared to anyone and if so, why do you think?
JB: Im sure that i have been but I can't recall one particular artist I've been continuously compared to.
GC: Do you write your own songs and if so, does songwriting coming easy for you?
JB: I write all of my own music. I usually have co- writers as well. I personally like singing my own material. I have a different kind of connection with it, because i write about things I've been through or things that are relevant to my life. some songs come easier than others but we try to leave no stone unturned and make the song lyrically as strong as possible so that can become more difficult and time consuming than just writing down words to fill the gaps.
GC: Obvious its easy for a singer to stay a solo singer, What were or are the challenges as you built a group or band around you?
JB: Honestly the only challenge was that most people in the area don't play music for a living full time and have jobs that sometimes conflict with rehearsals and going on the road every weekend but I started out being great friends with my drummer who was very well connected with musicians in the area and he was able to step into the roll of building a group around us that are great guys and even better musicians. I like to think of these guys as my family not just hired guns. You spend a lot of time together and it just makes the chemistry so much better when your on a personal friendship level with your guys. At the end of the day they are a huge part of bringing every song i write to life and make me sound good when we are out playing live. They work equally hard as i do and sometimes that's hard to find.
GC: Does the long list of "Georgia stars" that have made it big in recent years, inspire you even more?
JB: Yeah it's pretty cool to see all those guys make it from my home state. at the end of the day Hard work pays off.
GC: What is your favorite thing about performing live?
JB: I love to see the crowds enjoy what you're doing and to be able to have a good time at your shows. I pay close attention to everybody out there when I play my original tunes and especially new material to see how they react. It's not hard to see when people connect to your songs and that means more to me than anything. That's half the reward to me in writing music and getting out playing it to people.
GC: If you had ONE WISH for your career, what would that be?
JB: I have many bucket list venues I would love to play and I would love to play a sold out show at one of them, but I think my biggest goal would be to write a good enough song to get a major cut by an artist.
GC: Who's music are you listening to these days?
JB: I listen to a tons of people especially people that may have not been noticed yet. There is so much good music out there that's unheard of yet, I always enjoy listening to all my friends i write with music but as far as the bigger artist I listen to are Jon Pardi, Old Dominion, Eric Church, Chris Young.. guys like that.
GC: What plans do you have for the rest of 2017?
JB: I have a ton going on in 2017 we've already been hitting it hard, I've got lots of new music coming out. I'm in the studio right now working on a new single. We are cranking out the acoustic videos on Facebook which have been great to us and also I'm hopeful for a new EP this summer. I travel to Nashville every week sometimes twice a week to write so I'm going to continue to do that and also have plans to make the move to Nashville around mid summer. other than that we are going to keep getting out on the weekends playing shows and just enjoying the journey. It takes a ton of hard work to make a career out of music but we love every step of the way. There's nothing else I'd rather be doing.