Georgia-Country.com Artist of the Month
On a monthly basis, Georgia-Country.com spotlights a Georgia artist that we feel is furthering their career in country music. Below is our current artist of the month. We hope you enjoy reading their interview and getting to know this artist more. Be sure to check out their music, videos and schedule for the month. If you are a Georgia-based artist, 18 and over, and would like to be considered for Artist of the Month, please contact us with your name and a website to review.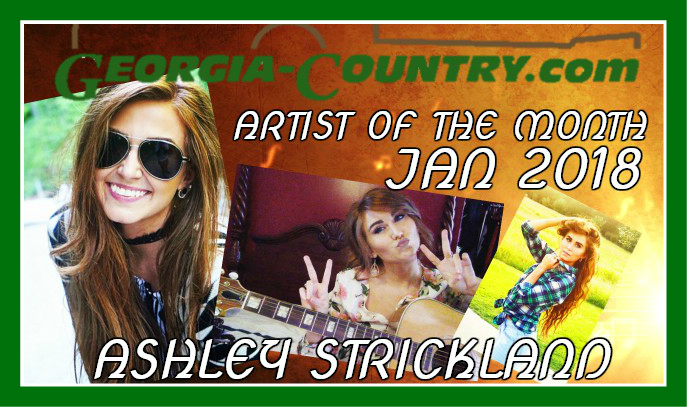 Our January Artist of the Month is Ashley Strickland. Read her interview below as GC catches up with the Ashley and discuss her career. Then check out her music in videos at bottom of page.
GC: Ashley, lets get Georgia familiar with you. Where were you born, raised and a little about your current life?
AS: I was born and raised in Toccoa, GA! I currently reside in Red Hill, GA. I lead worship at Liberty Baptist Church, have a full country band that I love to get together with when I can! We have a great time exchanging cool new and fun ideas for our upcoming shows! I also sell a little jewelry on the side at our local jewelry store, Lakemont Jewelers! In between all of that, I love having family nights where we usually enjoy some "Just Dance" on the Wii!
GC: Who were your earliest influences in music?
AS: The earliest influences that I can remember were LeAnn Rimes, Martina McBride, reba McEntire and Shania Twain! [>
GC: What was your earliest memory of performing in front of a crowd?
AS: At Clark's Creek Baptist Church for a Christmas program! I sang "O Little Town of Bethlehem" and was scared to death. I ended up being addicted to the adrenaline rush it gave me though. Worked out in my favor!
GC: Was there any one event that happen, that you know you wanted to sing for a living?
AS: Honestly, just watching music videos with my dad when I was little mapped the dream out for me. I knew I loved entertaining people. And he and my mama even so early on were always encouraging me to be anything I wanted and to never give up!
GC: Describe your type of country music?
AS: My type of country is anything relatable and heartfelt. I'm inspired by classics and modern country! It has certainly changed a lot! But I think that has given aspiring artists like me a little more comfort in knowing we can create music that is solely "us" and unique!
GC: What country singer do you admire the most and why?
AS: Shania Twain. She's been through A LOT in one lifetime and she's risen above all of her struggles. She's remained a great role model and that's not an easy task!
GC: Who's current music are you listening to today?
AS: Let me say, I listen to ALL types of music! Currently, I'm really into the remake of "Come Together" by Gary Clark Jr. off of the Justice League soundtrack. (Love movies!) As well as Drake White and Devin Dawson!
GC: What is your favorite place to play and why?
AS: My favorite place to play is the Georgia Theatre in Downtown Athens, GA! It's just an awesome venue and the crowd always brings the coolest and craziest energy! Goooooooo Dawgs!
GC: If you could open up for ONE act, who would that be?
AS: Cole Swindell. Seems like an awesome guy!
GC: What are your plans for 2018?
AS: Honestly, I've learned that if you make plans, God laughs. I've honestly just decided to work on as much music as I can, do the absolute best that I can, count my blessings and just keep truckin' it forward, come what may!