The 2015 Georgia Country Awards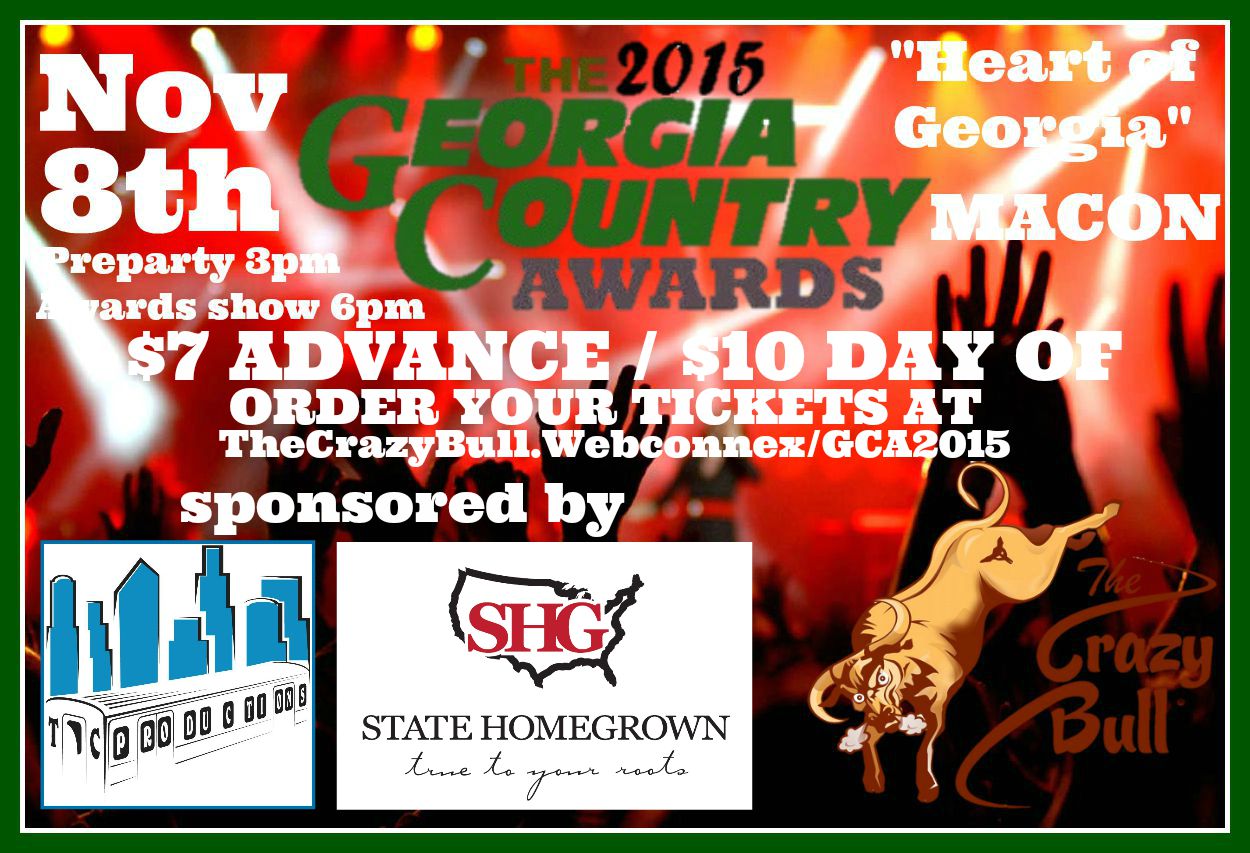 The 2015 Georgia Country Awards are the "CMAs" of Georgia. We honor the best in Country Music in Georgia in similar categories. Best Male Singer, Female Singer, Duo, Group or Band. Teen Artist, Traditional Artist (can be male, female or band). We also honor the industry with having Best Country Bar, Best Music venues, Best Concert venues, Best Country Dance Venue, Best Country Radio station, Best National artist and more might be added.
The Georgia Country Awards will be held Sunday afternoon, November 8th at The Crazy Bull in Macon. Starting at 3pm
NOTE: These are the things that will disqualify any artist: A. If any artist signed a national recording, publishing or development deal. We feel such a deal could give that act an unfair advantage. (Note: The Georgia Country Awards' mission is to honor local artist but we hope by recognition from the awards, artist proceed in the progression of their careers. Once that happens, this opens up more visibility to other artist).
the 2015 Georgia Country Awards is not JUST fan voted on. Your fan's voted count for only half of the points you receive. The GC Awards panel, of 4 people in the music business in Georgia (radio, recording, marketing), evaluate all artist's websites (how well done they are, etc), Social media (how active you are), originality (original songs, songwriting skills), stage presence (how well your shows are, marketability), how active playing (# of shows since Jan and # of shows on the books during voting rounds, any major events, opening for major acts, radio, media interviews, other awards, etc). This process was set up years ago to try to assure that the GC Awards honor the very best country acts in Georgia, in hoping that this will be just one stepping stone for them to achieve their goals.
On voting: Anyone can vote using a pc, tablet, smart phone, etc. There is only ONE VOTE per ISP address, or Internet service provider. If there are multiple devices using just ONE ISP, then only ONE vote can come from that ISP. If you feel you have NOT voted from your ISP but our ballot is not allowing you, you can WRITE IN your vote at Vote@Georgia-Country.com.
Our Teen Artist of the Year Finalist are: Chyann Rose, Madison Parks, Trent Ewing, Emma Bacon, Cole Tomlinson & Aspen Countryman. These acts are not on the ballot. Please attend the awards show to find out who will win. Plus, we'll have a special Teen Finalist Showcase during the event as well.
Below is the ballot for the final round. Voting STARTS OVER in the final round. Anyone that voted in the last round, can vote again. Voting has ended for the final round of the 2015 Georgia Country Awards. The winners will be announced at the 2015 Georgia Country Awards Show, November 8th at The Crazy Bull in Macon.