The 2017 Georgia Country Awards
The 2017 Georgia Country Awards are the "CMAs" of Georgia. We honor the best in Country Music in Georgia in similar categories. Best Male Singer, Female Singer, Duo, Group or Band. Teen Artist, Traditional Artist (can be male, female or band). We also honor the industry with having Best Country Bar, Best Music venues, Best Concert venues, Best Country Dance Venue, Best Country Radio station and Best National artist.
The 2017 Georgia Country Awards will be held Friday night, November 10th, at The Crazy Bull in Macon. This will the 3rd straight year of the Crazy Bull hosting the awards. The GC Awards will go back to its original format with 5 or 6 bands performing. There will be a separate ballot for ALL finalist to determine who will be asked to perform this year.
Qualifications for all artist is to be: Based in Georgia. If your website or Facebook music page shows you live in Nashville, you may be asked by GC to prove you still reside in Georgia 50% of the time. (this rule is in place for artist in the transition of becoming full time in Nashville). Must be an active performer in Georgia. (if you perform outside of the state, at least half your shows are in Georgia). Note: Active performer means you have regular performances and show these on your website or Facebook music page. You cannot be just recording music and not performing. You MUST call yourself a "country artist" and stipulate this on your website or FB music page. Many singers and bands do play other genre's of music,, but as long as the majority of your music is country, you will qualify. You can NOT be signed to any MAJOR recording or development deal in Nashville. Recording contracts in Georgia are fine but each artist will be evaluated per their situation. (If any artist qualifications CHANGE during the voting and no long qualify (such as signing a Nashville recording contract), they will be disqualified from the voting.
First round nominees are determined based off the Statewide Artist listings on Georgia-Country.com. If you are an artist that meets the qualifications above, but are not listed yet on this page, PLEASE email us at vote@georgia-country.com to be considered for nomination. Write in nominations will be taken starting March 15th and will be taken up to two weeks after the first round voting starts. After June 15th, no write in nominations will be taken.
BELOW IS THE BUTTON FOR ADVANCED TICKETS TO THE SHOW. IF TICKETS ARE TO BE PUT UNDER A DIFFERENT NAME THAN NAME ON CARD PURCHASING, PLEASE EMAIL US AT INFO@GEORGIA-COUNTRY.COM. BOOTHS HAVE ALWAYS SOLD OUT. ALL OTHER SEATS SHOULD BE STILL AVAILABLE UP TO NOV SUNDAY NIGHT, NOV 5TH. ONCE ANY SECTION IS SOLD OUT, THEY WILL BE REMOVED FROM THE PAY BUTTON. YOUR NAME AND # OF TICKETS WILL BE ON THE WILL CALL LIST AT THE DOOR, AT THE CRAZY BULL. THANKS. (NOTE: A % OF ALL ONLINE TICKET SALES WILL BE DONATED TO THE RED CROSS IN RELIEF OF HURRICANE HARVEY). AT THE DOOR ADMISSION WILL BE: GENERAL ADMISSION $10, ROW SEATS $13, TABLE FOR 4 $55 AND BOOTH (SEATS 6) $90. BALCONY SEATING HAS BEEN ADDED AS OF SEPT 27TH. ONE VIP SECTION JUST OFF THE DANCE FLOOR HAS BEEN ADDED, SEATING 15. AGE 18 TO ENTER, 21 TO DRINK.
Click on below diagram for seating locations (this is approx.)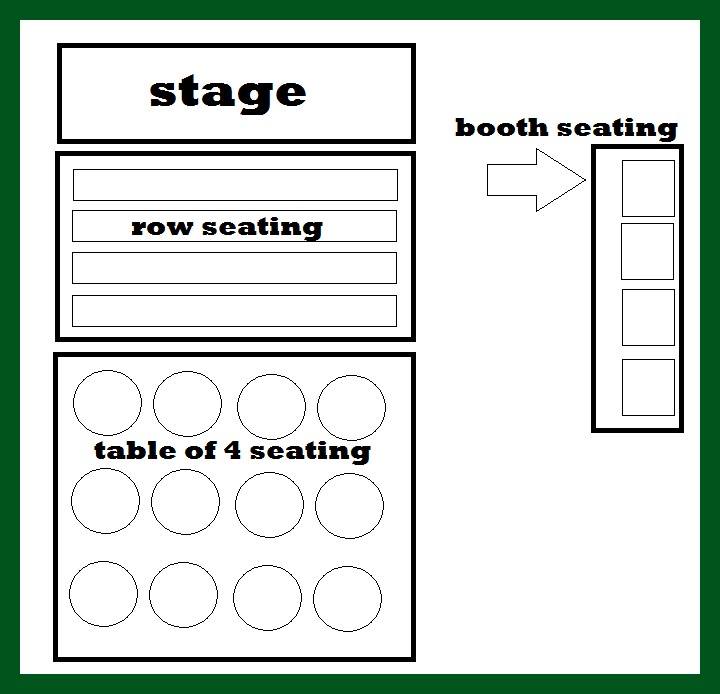 VOTING FOR THE FINAL ROUND HAS ENDING. WE'LL ANNOUNCE THE WINNERS AT THE 2017 GEORGIA COUNTRY AWARDS, FRIDAY NIGHT, NOV 10TH AT THE CRAZY BULL IN MACON, GA. BE SURE TO SECURE YOUR SEATS TO THE SHOW BY PURCHASING YOUR TICKETS ABOVE.