2021 Georgia Country Teen Showcase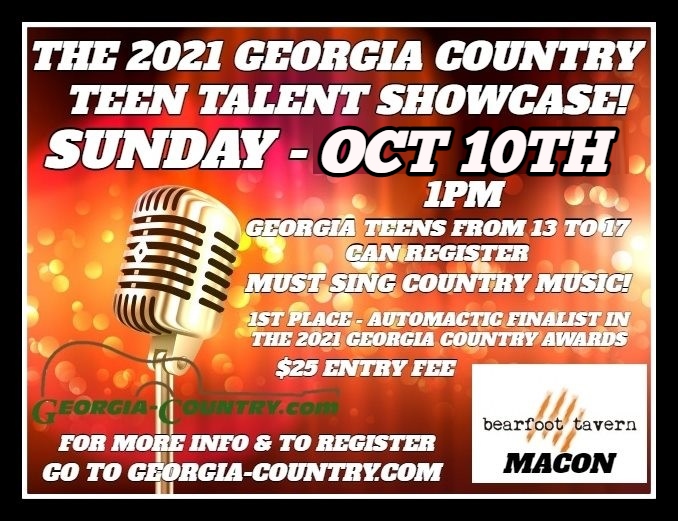 The 2021 Georgia Country Teen Showcase will be a talent search for the best country music teen talent in Georgia. Georgia-Country.com is always encouraging teens that have a desire to pursue a country music career or at least show off their talent. The 2021 GCTS is looking for teens in this area between the ages of 13 and 17 for this event. (Note: All teens must still be 17 on November 12th, 2021 and must be 13 at the time of their registration). The showcase will be held Sunday, Oct 10th at The Bearfoot Tavern in downtown Macon, starting at 1pm. All entrants must be able perform at least three country songs during the showcase. All entrants music be able to play an instrument or be accompanied by someone. (No A cappella or singing to a track). If enough contestants, there will be three rounds, one song each round. Open round, semi final round and final round. Each contestant must plan to be at The Bearfoot Tavern no later than 12:30pm and we ask the parent(s) to accompany them.
Each contestant will be judged on vocal performance, stage presence, style and appearance. We ask all contestants to dress professionally. Nothing offensive on stage please. The contest will be judged "America Idol" style with three judges (from the country music industry) and these judges will present feedback after every performance. Sound /PA will be provided. Just bring your instrument to be plugged in unless acoustic guitar or instrument.
Eligibility is for any teen that LIVES in Georgia. We MAY ask for ID from either contestant or parents to verify Georgia residence. We ask that the each teen's parent emails us with this info to Info@Georgia-Country.com. (No teen will be allowed to enter without parent's knowledge). No contestant can be anyone or related to anyone affiliated with Georgia-Country.com or Bearfoot Tavern or any of the judges. (Judges to be announced).
The winner of this showcase will be automatically a FINALIST in the 2021 Georgia Country Awards, to be held at The Crazy Bull in Macon. 2nd place will get a booked gig / show at The Bearfoot Tavern. 3rd place will receive a profile on the Crystal Peach page on Georgia-Country.com with videos shown
Entry fee is $25 for just the singer. After registering, please email us with the following info on contestant. Name, age, where from in Georgia, if playing an instrument or being accompanied. After registering, no refund, so please make sure you can make this event.