The Crystal Peach
The Crystal Peach is a page dedicated to interviews of industry leaders, major artist, commentaries from the GC staff and more.
GPB TO SHOWCASE KRIS YOUMANS BAND WITH UPCOMING KEN BURNS FILM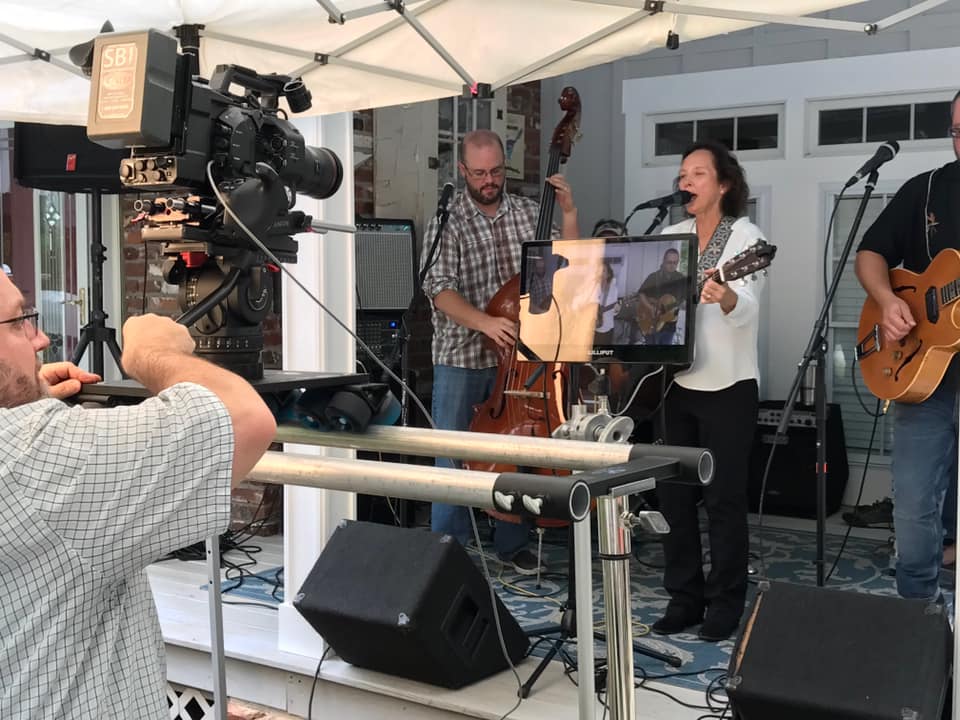 (July 9th, 2019). PBS will be airing a new Ken Burns film, "Country Music" in September. Along with that, GPB will be featuring Georgia country acts from around the state to showcase our rich history and current talent of country music. This past week, GPB went to film a performance with The Kris Youmans Band out of Newnan.
Amy Cooper, Senior Producer ar GPB contacted Kris in May and offered them the opportunity to be a part of the promotion for the upcoming Ken Burns documentary 'Country Music'. She and Carey Harrison who is the Videographer / Editor have been working on this project and picked 8 country bands from Georgia to participate. These will be 3 minute segments consisting of video and audio clips including interviews with the groups. They set up & filmed there in Newnan at Kris' next door neighbor's house on her front porch, which definitely has a scenic country background, peaceful & quiet except for some song birds and our two goats yelling at the band from their yard!
The band played one original tune "Slim Take Me Dancing', and one cover tune 'Truck Driving Man' . The band had a blast & in between filming and had fun getting to know Amy & Carey. They were professional & organized and made the experience fun for all the band. The segments should start mid-August and will lead up to the 'Country Music' documentary. Kris and her husband, Slim watch shows on GPB every day. "Ken Burns is a great film maker & his documentaries are always captivating" said Kris. "It's a series that looks at the history of country music from the southern Appalachia music, to honky-tonks, western swing, & the Grand Ole Opry & all the stories behind the songs.It's one of those documentaries you don't want to miss & we are honored to be a part of the promotion on GPB". - Kris Youmans.
ELECTRIC COWBOY CLOSING ENDING AN ERA?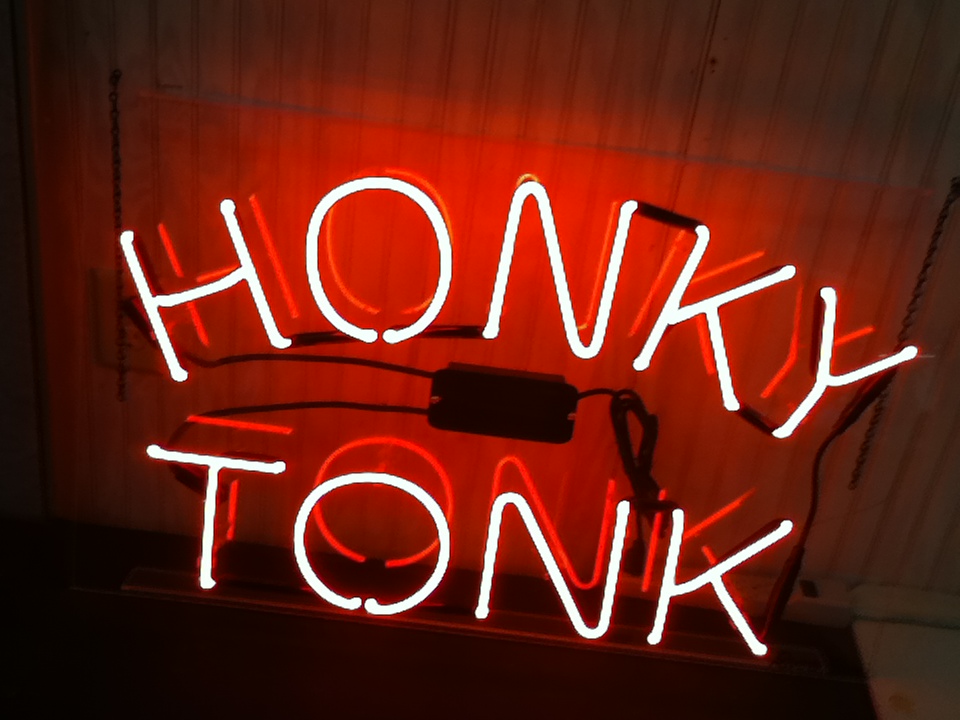 (Jan 23rd, 2019) Electric Cowboy has its last night, this coming Saturday night, Jan 26th. This potentially marks a seminole moment in Atlanta or maybe Georgia Country music history. Electric Cowboy, till Sat night, is the LAST remaining "country bar" in Atlanta. For the last 30, 40, maybe 50 plus years, Atlanta has always had at least one great country bar to go to. A place to hear your favorite country songs, to cut a rug here and there, from a two step to a slow dance with a date or where the ole' cowboy may go, drown a tear in a beer and maybe find that "next broken heart". Atlanta has had a long history of great country bars. As far back as the 70s and 80's with Mama's Country Showcase in Covington, to Wranglers and Neon Cowboy. The Buckboard in Marietta (which was lost recently, when the building and shopping center it was in, was torn down, was a great listening room for many acts, notably, Mark Wills, which lead the houseband, The Bandits. The early 90s saw an explosion in country bars in the area as country music dancing took off, on the heels of Urban Cowboy ten years earlier, but the "boot scoot" craze came into being. Then bars such as Miss Kitty's in Marietta, Two Steps West in Tucker and Crystal Chandelier (which later became Cowboys Kennesaw), along with Mama's, basically transferred Atlanta into Texas with country bars all the metro area as well as smaller joints, such as The Yellow Rose in Douglasville, Silver Saddle in Convington, Cadillac Ranch in Cumming, Sundance Saloon in Morrow, Stonewalls in Norcorss to plenty of others. Miss Kitty's was so popular that it appeared in Travis Tritt's video of "Country Club". Miss Kitty's also was one of the training grounds for Tritt & Confederate Railroad. Urban cowboys (and cowgirls) had their pick of where they wanted to kick up their boots every weekend. But, things do change and as country dancing waned some, but country music as a whole was still becoming the most popular genre in the country. Wild Bills opened up in 2003 to become the MEGA bar for Atlanta's country music lovers. Over 1000 people packed the place every Saturday night, with its HUGE dance floor and hosted some of the biggest stars in concert monthly. Cowboys Kennesaw slowed down and eventually had to shutter its doors in 2010 as well as Wild Bills a couple years later. Actually, at the end of the Cowboys run, the bar scenes in the remake of Footloose, was filmed at Cowboys. You can see the front of the bar in the video "Fake ID" by Big & Rich. Electric Cowboy (the country bar franchise out of Arkansas), took over the abandoned Cowboys, remodeled it and it has been a staple in the area up till this year. The shopping center where EC is was recently sold to a developer which will tear down the strip mall its in. So, after this Saturday night, after decades of great country bars, Atlanta will no longer have a "country bar". There will still a few places to get your "country fix" but a TRUE country bar will no longer be found in Atlanta. Southern Comfort near the Atlanta airport might be the remaining "honky tonk" but not necessary country bands every weekend. There are also a few places that hold country dancing such as West Georgia Country Nights in Carrollton and Steve Edwards Southern Mix night at Club 201 in Alpharetta. There is talk of a new country bar in Kennesaw to replace Electric Cowboy, but it will remain to be seen if it's a TRUE country bar. Country music might not be QUITE as popular as it was twenty years ago, but still is one of the top genre's of music in the country. Millions tune into stations, buy the music and crave their country music (older or newer) every day. There is no reason Atlanta cant have a country bar that is nothing but country and be successful. Let's hope we see one very soon.
MEGAN FOWLER INTERVIEWS DIAMOND RIO'S MARTY ROE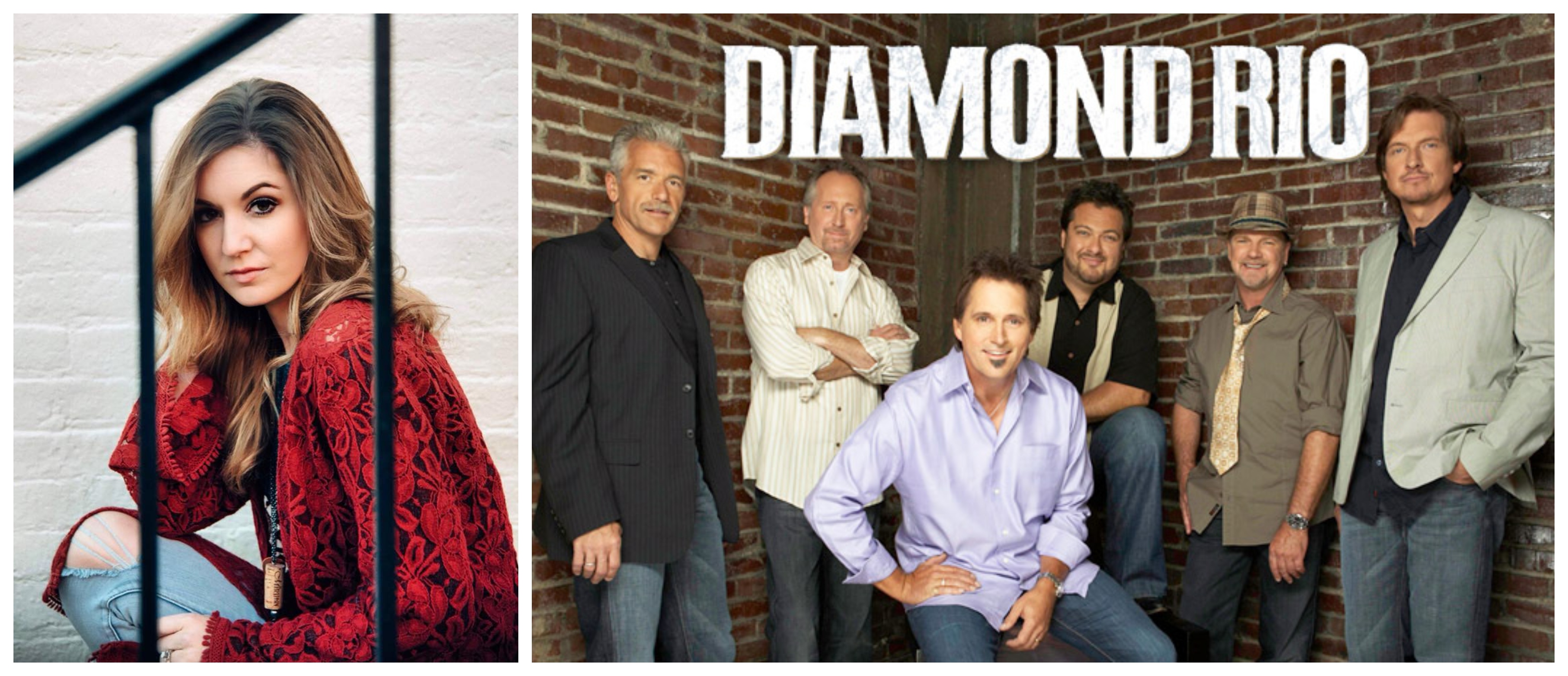 GC's Megan Fowler recently go to chat with Marty Roe, the lead singer of multi award winning band, Diamond Rio. She discussed how they started, their history and and the music business. Megan also will be performing the PRE SHOW before Diamond Rio, on Thur night, Sept 20th, at The Mill Town Music Hall in Bremen.
"She ain't typical, she ain't predictable..." As most of you know, I've never been one to do a lot of writing unless it involved music in some type of way (songwriting, of course), but sometimes I like to meet myself in the middle and do things that might surprise me as well as you. This past week, I had the opportunity to interview the lead singer of the renowned country group, Diamond Rio. This is probably going to be somewhat of a beautiful mess, but I'm going to try and take you guys back to the 90s to probably my favorite era of country music.
Marty Roe, the lead singer of the group Diamond Rio, is as sweet of an individual as his tasteful music. In 1982, before Diamond Rio ever came to be, Marty started working at the amusement park at Opryland known as Opryland USA located just outside of downtown Nashville, Tennessee. He began to perform at the amusement park in addition to his work there. When asked how Diamond Rio came to be, Marty told me that the original members of the group had already formed a band and called themselves the Grizzly River Boys, which shortly thereafter, they changed to the Tennessee River Boys. The band often played at the amusement park where Marty worked. In 1984, shortly after meeting the boys, and after lead singer, Ty Herndon left the band to do Star Search, the boys asked Marty to join the band as their new lead vocalist. In 1989, after several band membership changes, the members that are still now very much a part of the group, joined and obviously stuck around. Roe said that the group signed to Arista Records over a simple handshake with a guy by the name of Tim DuBois who opened the Nashville branch of Arista Records. Marty then went on to tell me that in 1991, the band released "Meet in the Middle" as a single and his life has never been the same since.
I've always been very curious how bands come up with their names for their groups, so I asked Marty where the name Diamond Rio came from... "Diamond REO was the name of a truck made in Pennsylvania, which is also where REO Speedwagon got their name from. We didn't want to copy them or the name of the truck so we changed it ever so slightly from Reo to Rio to better suit a country group... It also looked better on paper," Marty laughed. As long as I've been in country music, I've never known that, and then I got to hear it from the lead singer himself... WHAT IS MY LIFE?
Being in the music industry, I know that it all starts with a song and sometimes that song comes from you as a songwriter, and sometimes it comes from another songwriter. With "Meet in the Middle" still remaining as one of their biggest hits, I had to know more about the single and all of their music for that matter. When I asked Marty where the song had come from, he said, "Throughout our career, we decided not to play preference to our own original music. A lot of outside stuff became a lot of what we did and that's where we got 'Meet in the Middle' from." Marty went on to say that "artists sometimes get so caught up in their own stuff, and sometimes it's great, and sometimes outside songs are just better." Overall, the band just wanted to release the best material they possibly could, and "Meet in the Middle" was just that.
There are many groups and/or duos that have made their way through the country music scene, and sometimes I wonder, "Is it always hunky dory like they portray on stage?" You know how sometimes in high school you were typecast to whatever sport you played, club you were a part of, or the people you associated with? Well, in case you haven't figured out, even when you grow up and get a job, sometimes people will typecast you as "that girl that sings." I asked Marty his thoughts:
Me: "I know sometimes being in a group can be tough... Were you guys typecast as being a part of Diamond Rio and was it hard for you to be known for that and have most people not know who you are outside of the group?"
Marty: "You know people call the lead singer of Lynyrd Skynard 'Lynyrd' when really that's just the name of the group, and nobody ever called me 'Diamond,' but we've been around for long enough that people have come to know who we are as individuals, not just as the group. We've all done different things individually, but our main responsibility is to Diamond Rio. When there is a decision that needs to be made, majority rules and if you're on the losing side, you eventually come to support all sides. We do have disagreements from time to time, but it's more like a marriage or a family than anything."
If you're a fan of country music then you know that Diamond Rio has won many awards, and had so many highs in their career. I know it's hard to narrow it down to just one when you have a career like they've had, but I decided to ask. "You know, first awards are great like winning our first ACM and CMA awards, but becoming members of the Opry was and is still the most incredible thing. You dream of just being able to sing on that stage, but to be asked to become members was and is such an honor." Marty went on to say that, "It is so cool to be included in a group with such great company. We are actually celebrating our 20 year anniversary of being members of the Grand Ole Opry this year."
If this is not actual goals then I don't know what is! Ok, maybe for a country musician, or the universe, but y'all... Ok, sorry, I had a moment... Let's dig a little deeper.
Do you ever look back and wonder what your life might be like now if you had made a certain choice or didn't make that choice? I always try to think of what else I would do if I weren't in the music industry, and honestly I have a lot of things that I would like to try, but nothing could ever trump music. Just out of curiosity, I asked Marty what he would be doing now if music hadn't gone the way it has for him:
"Outside of this band, I might would've pursued music a little further and I could have had some success in the background vocal world, but that would have been a tough way to go." Marty then said, "You know Megan, I went to college and got a degree in business and honestly if music hadn't worked out the way it has, I would have been in banking." I guess the proper thing to say here is "you never know until you try."
I knew the answer to this next question might be a given especially with the response Marty had just given me, but I figured I needed your typical "interview questions," so I asked...
Me: "If you had to do it all over again, would you?"
Marty: "Yes absolutely! It has been the greatest thing in my life next to Jesus, my wife, and my family."
And I think that's all that needs to be said about that.
I always look back on my career thus far in the music business and wonder if things might be different if I'd only made a different decision, or gone down a different path. The "what ifs," you know? I know we can't live our life that way, but sometimes the thought does cross my mind. With a career like Diamond Rio had, I wouldn't think they would have done anything differently, but I asked Marty his opinion on the matter.
Me: "If anything, is there something you guys would have done differently in your career?
Marty: "Hindsight is 20/20 for me. Fortunately for us, a lot of our stuff did really well. Looking back, I would still choose this band, and I would've chosen most all of the songs that we released. Honestly, I can stand by all of those choices."
Like I said, would you even question anything with a career like they've had?
As a trying artist, I feel like I can never gain enough knowledge about the business, especially when that knowledge comes from someone who has been so successful in the industry. I asked Marty what advice he could give to an up and coming artist like me who is in Nashville trying to succeed in the music industry... "Number one, if you truly want to be in the music industry, you really have to be in Nashville. You need to be in town meeting people and networking. Talent is a given if you've got it... But it's all about the relationships you form and how you treat people."
Marty went on to say, "Writing material is so important; it's a necessity. Patience is a necessity." Marty told me that he married his wife before Diamond Rio's success hit. "If it weren't for my wife, I wouldn't be in the business. I played coffee houses in college, but my wife is the one who encouraged me to audition for Opryland USA and to pursue a career in music."
That's an incredible woman, y'all!
In my few years of being in this industry, I've learned that one, first impressions are everything, and two, it's all about the people you surround yourself with. So if you're up and coming, like me, keep your head up so you can "go a little farther and dig a little deeper." You might just find yourself in 20 years being interviewed by someone like me. ;)
WHEW! Ok, I made it through and if you're reading this, then I guess you made it too! Being in the entertainment industry, you sometimes wear many hats and I guess "journalist" is one of them... I'm so glad you guys decided to walk my way and read along! Marty, along with the rest of the Diamond Rio guys, as well as myself, are so looking forward to playing in Bremen, Georgia on September 20th at Milltown Music Hall! We can't wait to spend one more day with you guys!
P.S. I know I left a lot of room for doubt, but when it comes to you, I'm a fool and there's nothing you can do... Ok, I'm out! -Norma Jean Riley
For more information on Megan Fowler, go to MeganFowlerMusic.com
To purchase tickets to the Diamond Rio show, go to Diamond Rio at Mill Town Music Hall
HUNTER FLANAGAN INTERVIEWS PETER NOON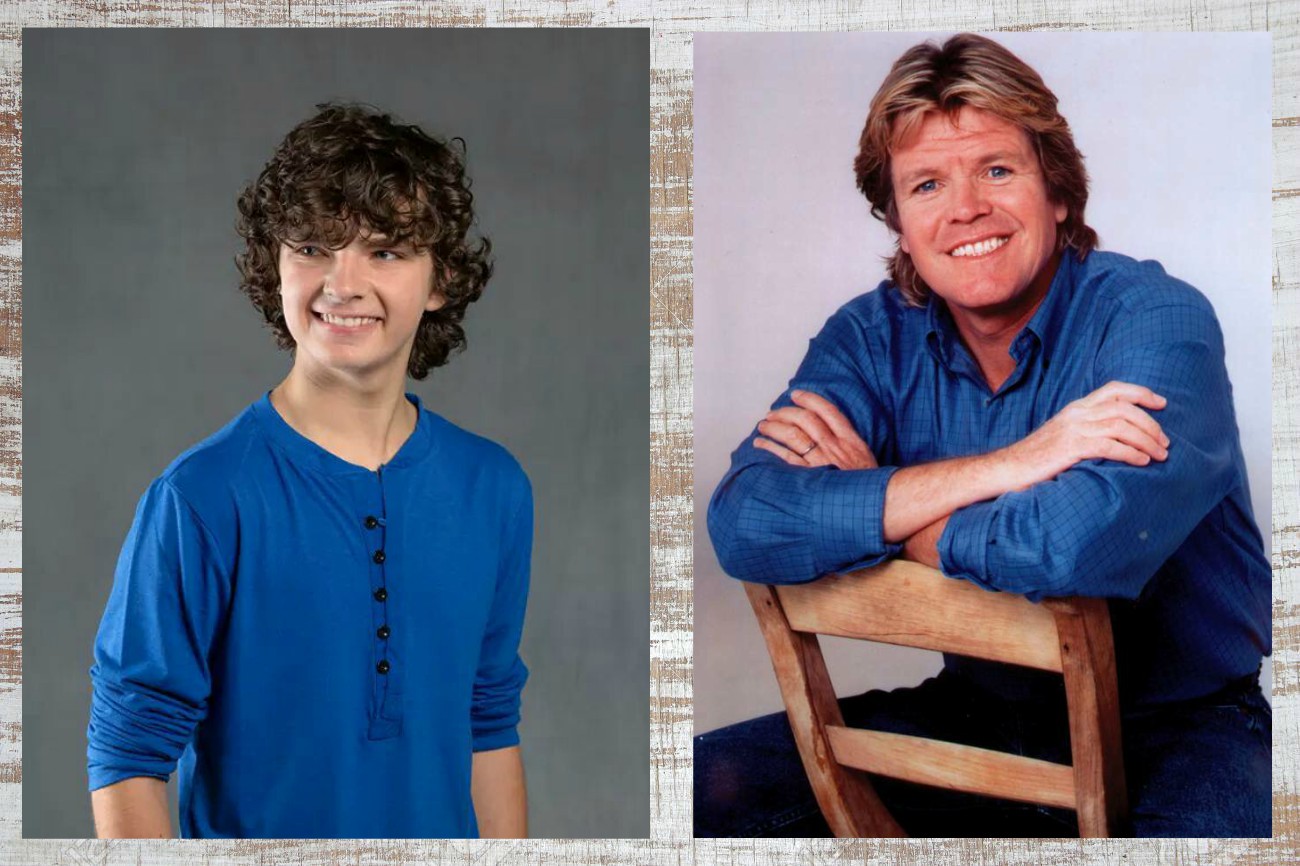 Below are ten questions that GC's Hunter Flanagan has asked Peter Noone (legendary 60's rock star). Hunter will be playing the PRE SHOW before Peter Noone, this Saturday night, April 21st at Bremen's Mill Town Music Hall. He will be playing out front at 6:15pm
HF: I'm a notes for notes kid, I heard you were involved with the program, how did you get involved?
PN: My daughter Natalie Noone is on the board of notes for notes and was a co founder in high school in Santa Barbara. I only helped them to get the very first notes for notes opened in Santa Barbara with gear and equipment.
HF: When in your life did you know you were made to be a musician?
PN: I'm not really a musician I play some musical instruments to entertain! I am an entertainer.
HF: What would you say is your favorite song to perform?
PN: I actually only perform my favorite songs and there are about 300 of them.
HF: Did you ever consider career besides music?
PN: I am only good at one thing. I was always good at music and I love every aspect of music. Listen sing play dance the lot.
HF: Whats your most memorable performance in your opinion?
PN: We did a poll winners concert with the Beatles, The Stones, The Kinks, The Who. The Yardbirds and Cliff Richard at Wembly and we did two songs but we had won the opportunity to play with our heroes.
HF: What advice would you give to a starting musician?
PN: Be an artist, be different, be persistent and remember it's not about money it's about being an artist. The people who fail are the people who try to impress other musicians Try to impress your audience.
HF: What's your secret to being in the music industry for so long?
PN: It's my hobby.
HF: What artists were your inspirations when you were starting?
PN: Buddy Holly and The Crickets, The Everly Brothers and Roy Orbison.
HF: Is life on tour hard on you?
PN: No, it's my hobby and I am a cultural anthropologist.
HF: What do you enjoy doing in your downtime?
PN: I play music and listen to music and I sort of live music.
GREGG ERWIN INTERVIEWS BEN HAGGARD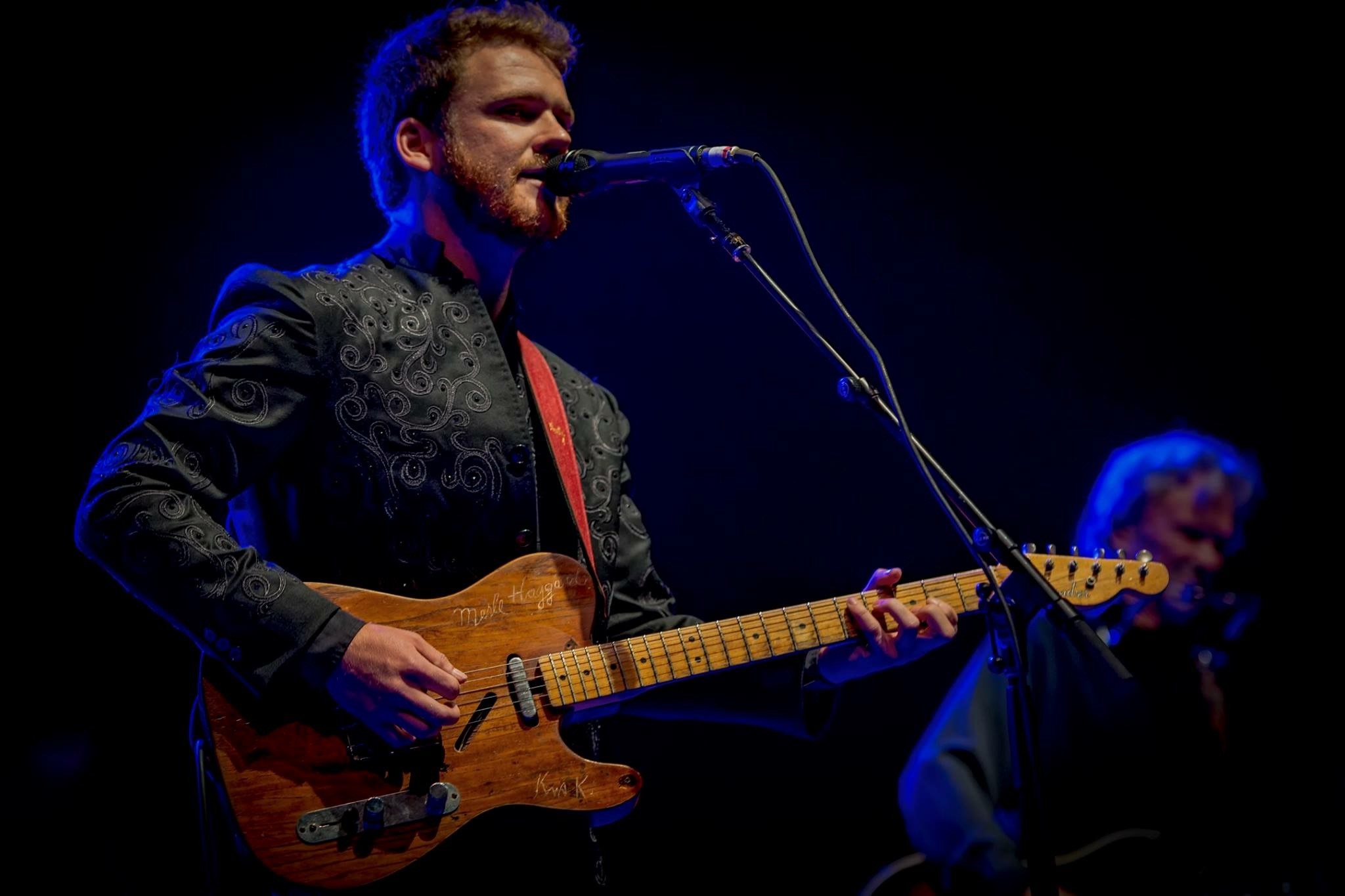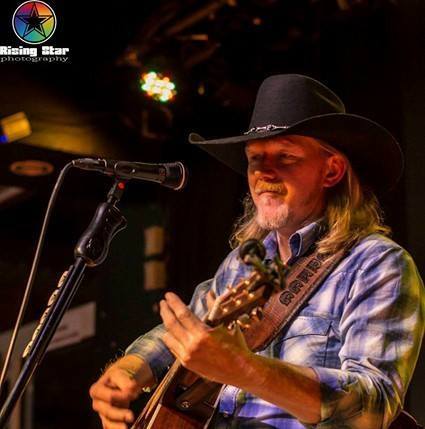 Below are ten questions that GC's Gregg Erwin has asked Ben Haggard, son on of the legendary Merle Haggard. Gregg will be playing the PRE SHOW before Ben Haggard, his brother Noel and The Strangers, this Saturday night, Jan 27th at Bremen's Mill Town Music Hall. He will be playing out front at 6:15pm
GE: How does it feel to be the son of someone who made such an everlasting impact on the lives of billions of people through his music?
BH: I've never known any different so it would be hard to compare, but from my point of view it was beautiful. Somewhat like every fan was family.
GE: How important is family to you and how does that fit into your busy music schedule?
BH: Since I moved from California being away from my family has made me closer to them, and I've got a little boy on the way so it's become more important.
GE: What do you think about new country and the direction it's going?
BH: I'm not sure of the Direction, seems to lack substance and emotional content.
GE: What advice would you give to someone that is an up and coming artist that doesn't want to fit into the Nashville mold?
BH: I'm still up and coming so it'd be hard to say. I guess I'd say be brave push yourself as much as you can to make ends meet and work hard at it.
GE: Where do you see country music going in 10 yrs?
BH: Well, that's a deep subject.. history tends to repeat itself, I could see it goin back to a sound still remembered but almost forgotten.
GE: Aside from your father, who us your favorite country music singer?
BH: Mr. Willie Nelson.
GE: Do you write allot of songs?
BH: Writing is like anything else in music, takes time. I spent years on guitar not thinking about anything but yes, I do write.
GE: Do you ever co-write songs if so does it matter who with?
BH: A co-write for me usually happens with someone close to me. Otherwise I find it hard to open up and write something worthwhile.
GE: Do you believe in the words of Aaron Tippins song you got to stand for something or you'll fall for anything? Collaborate.
BH: Sure why not!
GE: What is your favorite song to play and why?
BH: Milk cow blues.
2017 YEAR IN REVEW

Well, 2017 turned out to be another eventful year in country music from Georgia. There were highs and lows in all aspects, from venues opening to closing, to new singers and bands coming onto the scene, Georgia artist moving on to Nashville to continue to pursue their career, to a legendary Georgia act getting the highest honor in country music.
2017 started out with new venues opening up such as Crescent City Tavern in Rome. Crescent City Tavern also went on to win Northwest Georgia's Bar of the Year in the summer of 2017. Amici's Café opened up a new location with live music in Gainesville and announced opening soon in Macon. Athens, desperate for live country music, had Venom Venue add country music to their lineup. Crazy Bull in Macon announced they were expanding to add a restaurant on the top floor that will showcase live music, as well as adding balcony seating overlooking the main stage. On the other side of the page, 2017 didn't end without seeing some music venues to either close or drop live music. East of Austin in Villa Rica, a listening room, decided to close after three years. Dillingers in Amercus closed after several years of live music. And in Dec, The Bistro At 219 in Tifton, decided to drop live music. They will remain open still. Wild Wing Café in Suwanee announced they would close at the end of the year. This location was one of the oldest locations for Wild Wing in Atlanta and had several successful years of live music in the 90s and thru the early 2000s. And one of Georgia's oldest country bars, Cowboy Bills in Milledgeville, decided to close for good. With forty plus years of regular country music, Cowboy Bills was one of Georgia's most successful country bars for many years.
One of the biggest stories of 2017 was the heartbreaking new of legendary radio personality Rhubarb Jones passing in the spring. Rhubarb was know on many Georgia country radio stations and a beloved person as well. Country radio in Georgia will never be the same. Another legendary radio host, Moby, of Moby In The Morning, announced he would be retiring, ending his syndicated show.
Several Georgia artist moved on to Nashville to pursue their career in country music. Some of them were, Megan Fowler, a two time winner of the Georgia Country Awards and two time winner of the Georgia Music awards. Travis Denning, Ben Wells and Dawson Edwards were some that signed deals in Nashville. Rick Byers out of Chatsworth, signed a recording contract with Ossum Possum Records. Also, artist from Georgia that continued their rise in country music was Kane Brown, Lauren Alaina and Brent Cobb.
The 2017 Georgia Country Awards was held for the third time at The Crazy Bull in Macon. Their most successful show thus far with a great crowd and a great night of country music. (You can review the winners of the night on the Awards page on GC). Speaking of awards, The Barron Family, Russell, Robbie and Bob was added to the Atlanta Country Music Hall of Fame as well as ReNay Lee Jarvis.
The year's biggest story was probably legendary country star, Alan Jackson being added to the Country Music Hall of Fame in Nashville. Jackson, humble as always, had Loretta Lynn announce him at the Medallion Ceremony in the fall. Georgia's Jerry Reed also went into the Hall with Jackson.