The Crystal Peach
The Crystal Peach is a page dedicated to interviews of industry leaders, major artist, commentaries from the GC staff and more.
YOUNG GEORGIA TALENT, LEAH BELLE FASER, MAKING STRIDES IN COUNTRY MUSIC

(Feb 26th, 2021) When Leah Belle Faser turned 16 this past summer, she was preparing to release her debut, Crossing Hermi's Bridge, an EP of seven original songs that served as her introduction to the world. Six months later, while Leah is promoting her new single and video, "Second Hand Store," the national media is already paying attention and suggesting the rest of the world do so as well.
Earlier this month, Bust Magazine featured Leah in an article of "5 Up and Coming Women Musicians You Should Know," and this was almost immediately followed by Wide Open Country naming her as one of "Three Artists to Watch." In 2020, she was a finalist for Teen Artist of the Year in the Georgia Country Awards.
Meanwhile, after premiering the "Second-Hand Store" video, Pro Country Music published an in-depth interview with Leah where they proclaimed that "she's laying the groundwork for what looks to be a long, successful country music career."
The "Second-Hand Store" video has picked up early adds from The Country Network, Heartland TV, and The Country Music Channel, while the single has made its way onto a variety of Spotify playlists including New Music Nashville, Sweet Tea & Sunshine, New Country Hits, and Nashville News - and was also added to VEVO's Incoming Country and TIDAL's Rising: Country playlists.
"...infectious melodies and relatable diary-like lyricism."
--Timothy Carpenter, American Songwriter
About Leah Belle Faser: Few individuals are certain of their path in life at Leah's age, much less already achieved a masterful grasp on it. However, she is one of those rare types--not only committed to her artistry but also sharing an assurance and agility translated through her music that belies her years. The EP shows off her rootsy pop-country sensibilities and bell-clear vocals. And while it is tempting to compare the high schooler to another famous young songwriter who forged her path in pop country--Taylor Swift-- Faser's vocals have a different dimension, having drawn from a rich and diverse range of influences such as Patsy Cline, Emmylou Harris, Kenny Loggins, Linda Ronstadt, Eva Cassidy, Lorde, and Tenille Townes.
To download Crossing Hermi's Bridge or for an EPK, please visit https://tinyurl.com/lbf-crossinghermisbridge. For more general information, please visit www.leahbellefaser.com
Publicity:
Mike Farley - Michael J. Media Group - 608-848-9707 mike@michaeljmedia.com
THE LEGEND & THE MAN by Wesley Fricks

Picture below is Doug Moss with Hank Williams, Jr.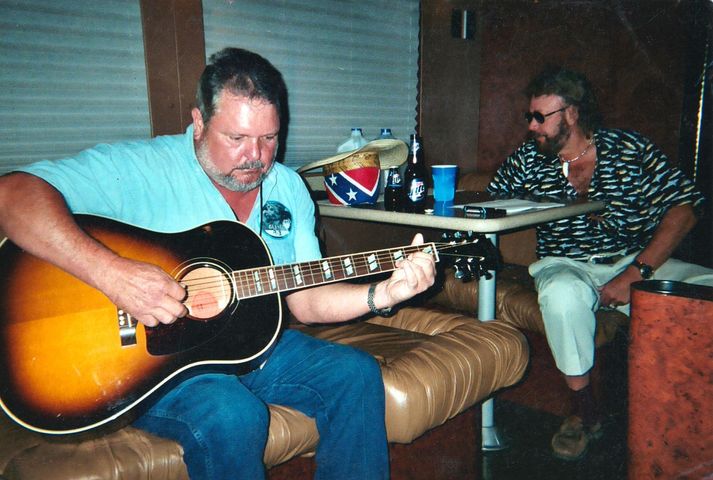 (Feb 11th, 2021) DOUG MOSS, a small town country boy from rural Georgia was born to less-than-moderate circumstances in September 1953 in Lavonia, Franklin County, Georgia. He learned to play the guitar at age nine and began singing on stage at the tender age of 12.
His parents, Perry & Corene Moss, had 10 children and so much love was shared in their home. However, they knew there was something special about Doug. They so much wanted their baby boy to go to Nashville where he would have undoubtedly made a star out of himself. He wanted to play music for north Georgia and that is where he spent most of his time performing on stage.
In 1976, Doug was asked to bring his band to Athens, Georgia to play for Jerry Farmer at the J&J Center on Commerce Rd.
"I wouldn't take nothing away from some of them up there in Nashville," said former drummer and close friend, Stancel Dove, "But I tell you what, he was as good or better than a lot of them - he was great!"
It was while working at the J&J Center that Doug met Leon Everette who he spent some time out on tour around 1979-80. Everette was making millions with RCA and then Mercury Records at the time and Moss toured with Everette who recorded songs like "Hurricane," "Give me what you think is fair," "The lady she's right," and also the 1980 hit "Over."
Farmer also got the band a gig on the road for two years in 1980 with RCA recording artist, Sylvia, who won ACM's Top Female Vocalist in 1982.
That same year, Doug and the New Breed Band, perfected a friendship with professional song-writer, Roger Bowling. The Clayton, Georgia native penned such songs as "Lucille" and "Coward of the County" for Madison County's own Kenny Rogers, a Country Music Hall of Fame member. Bowling made the arrangements before his death for Doug and the New Breed Band to cut an album filled with the songs Roger had written.
Bowling died on December 27, 1982 and after some discussion with Roger's wife, Tricia, the band decided to cut the album as a tribute to Roger Bowling. Doug laid the vocals to five of Roger's songs; "I just can't get over you," "I just don't feel at home at home anymore," "Then, I'll stop loving you," "While the feeling good," and finally, "They'll never be a love song as beautiful as you."
The album was produced by Glen Sutton in Nashville at Chip Young's studio on 17th Avenue South. The album was engineered by Young who was a session guitarist that played for many great stars including Elvis from 1966 to 1977 at Presley's request.
"Roger praised you highly" said Mrs. Bowling, "And had great respect for each of you and the music you played - the music he loved so much."
Not long after Roger died, Doug went back to work for Farmer with the 441 Express Band back in Athens. They continued to work a weekly gig at the J&J Center for over sixteen years.
Farmer said Moss had a special talent, "He was the best guitar player there ever was," said Farmer, "He was good to me."
One of his last concerts was with T. Graham Brown in Royston, Georgia. He was very proud of that. As a finale, he sang the American Trilogy to a standing ovation. He was a member of rocking country band Southern Impactt for six years.
Doug was an all-round good man who thought the sun rose and set with his wife and all daughter cast. "He was a good father, too, a real good father," said long - time band member and close friend, Bill Wright. "He loved them girls, I know he did."
So you see, one's life can touch and inspire the lives of so many without ever realizing it. Doug was a legend to a lot of people around north Georgia and his impact on Georgia music fans will remain in perpetuity and the legend will live on in the hearts of music lovers everywhere.
He has contributed to the joy and happiness of millions of people who were lucky enough to know him or watch him perform on the stage through the years. A career that began nearly six decades ago rose to the pinnacle of stardom and fame and those that knew him well promise that his music will live forever in their hearts.
He was an awesome and talented musician; his vocals, his hand-eye coordination and his ear for music made him a true sensation, especially to his north Georgia fans. He certainly was loved by all those that knew him.
His contribution to country music deserves its rightful place in the Country Music Hall of Fame or shrine for future generations to enjoy.
He was a great friend to a good song and even greater friend to a good guitar.
God bless the memory of Doug Moss!
GPB TO SHOWCASE KRIS YOUMANS BAND WITH UPCOMING KEN BURNS FILM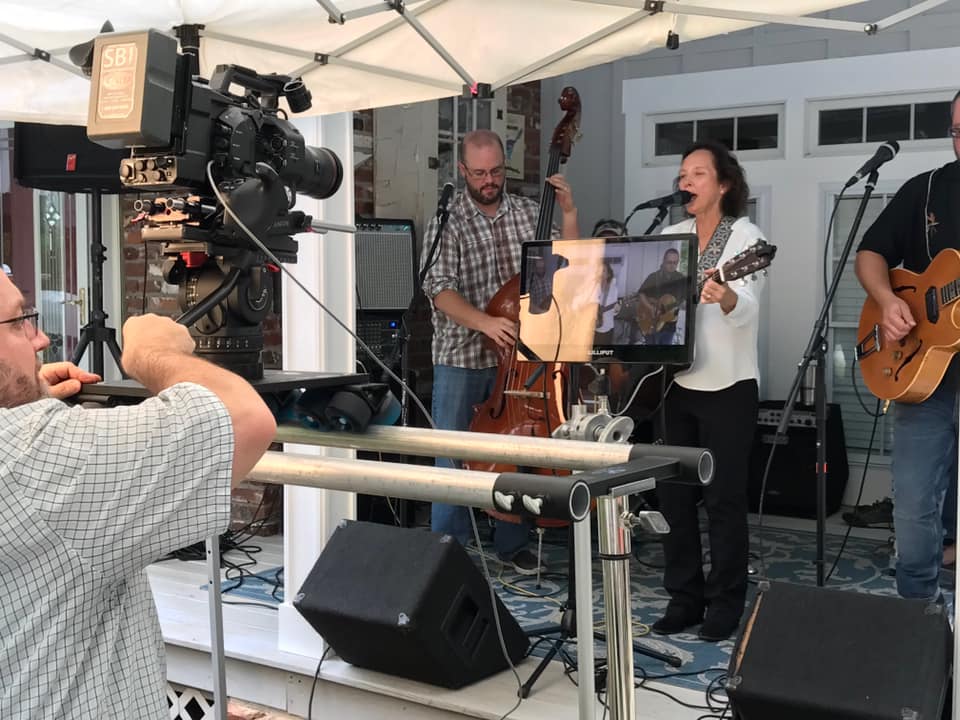 (July 9th, 2019). PBS will be airing a new Ken Burns film, "Country Music" in September. Along with that, GPB will be featuring Georgia country acts from around the state to showcase our rich history and current talent of country music. This past week, GPB went to film a performance with The Kris Youmans Band out of Newnan.
Amy Cooper, Senior Producer ar GPB contacted Kris in May and offered them the opportunity to be a part of the promotion for the upcoming Ken Burns documentary 'Country Music'. She and Carey Harrison who is the Videographer / Editor have been working on this project and picked 8 country bands from Georgia to participate. These will be 3 minute segments consisting of video and audio clips including interviews with the groups. They set up & filmed there in Newnan at Kris' next door neighbor's house on her front porch, which definitely has a scenic country background, peaceful & quiet except for some song birds and our two goats yelling at the band from their yard!
The band played one original tune "Slim Take Me Dancing', and one cover tune 'Truck Driving Man' . The band had a blast & in between filming and had fun getting to know Amy & Carey. They were professional & organized and made the experience fun for all the band. The segments should start mid-August and will lead up to the 'Country Music' documentary. Kris and her husband, Slim watch shows on GPB every day. "Ken Burns is a great film maker & his documentaries are always captivating" said Kris. "It's a series that looks at the history of country music from the southern Appalachia music, to honky-tonks, western swing, & the Grand Ole Opry & all the stories behind the songs.It's one of those documentaries you don't want to miss & we are honored to be a part of the promotion on GPB". - Kris Youmans.
ELECTRIC COWBOY CLOSING ENDING AN ERA?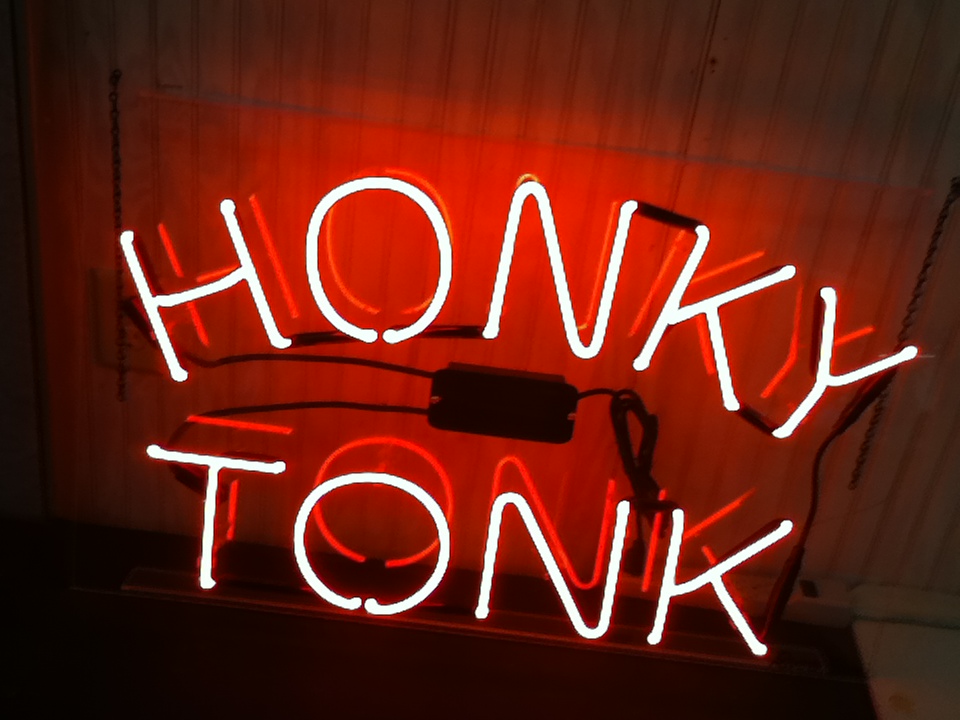 (Jan 23rd, 2019) Electric Cowboy has its last night, this coming Saturday night, Jan 26th. This potentially marks a seminole moment in Atlanta or maybe Georgia Country music history. Electric Cowboy, till Sat night, is the LAST remaining "country bar" in Atlanta. For the last 30, 40, maybe 50 plus years, Atlanta has always had at least one great country bar to go to. A place to hear your favorite country songs, to cut a rug here and there, from a two step to a slow dance with a date or where the ole' cowboy may go, drown a tear in a beer and maybe find that "next broken heart". Atlanta has had a long history of great country bars. As far back as the 70s and 80's with Mama's Country Showcase in Covington, to Wranglers and Neon Cowboy. The Buckboard in Marietta (which was lost recently, when the building and shopping center it was in, was torn down, was a great listening room for many acts, notably, Mark Wills, which lead the houseband, The Bandits. The early 90s saw an explosion in country bars in the area as country music dancing took off, on the heels of Urban Cowboy ten years earlier, but the "boot scoot" craze came into being. Then bars such as Miss Kitty's in Marietta, Two Steps West in Tucker and Crystal Chandelier (which later became Cowboys Kennesaw), along with Mama's, basically transferred Atlanta into Texas with country bars all the metro area as well as smaller joints, such as The Yellow Rose in Douglasville, Silver Saddle in Convington, Cadillac Ranch in Cumming, Sundance Saloon in Morrow, Stonewalls in Norcorss to plenty of others. Miss Kitty's was so popular that it appeared in Travis Tritt's video of "Country Club". Miss Kitty's also was one of the training grounds for Tritt & Confederate Railroad. Urban cowboys (and cowgirls) had their pick of where they wanted to kick up their boots every weekend. But, things do change and as country dancing waned some, but country music as a whole was still becoming the most popular genre in the country. Wild Bills opened up in 2003 to become the MEGA bar for Atlanta's country music lovers. Over 1000 people packed the place every Saturday night, with its HUGE dance floor and hosted some of the biggest stars in concert monthly. Cowboys Kennesaw slowed down and eventually had to shutter its doors in 2010 as well as Wild Bills a couple years later. Actually, at the end of the Cowboys run, the bar scenes in the remake of Footloose, was filmed at Cowboys. You can see the front of the bar in the video "Fake ID" by Big & Rich. Electric Cowboy (the country bar franchise out of Arkansas), took over the abandoned Cowboys, remodeled it and it has been a staple in the area up till this year. The shopping center where EC is was recently sold to a developer which will tear down the strip mall its in. So, after this Saturday night, after decades of great country bars, Atlanta will no longer have a "country bar". There will still a few places to get your "country fix" but a TRUE country bar will no longer be found in Atlanta. Southern Comfort near the Atlanta airport might be the remaining "honky tonk" but not necessary country bands every weekend. There are also a few places that hold country dancing such as West Georgia Country Nights in Carrollton and Steve Edwards Southern Mix night at Club 201 in Alpharetta. There is talk of a new country bar in Kennesaw to replace Electric Cowboy, but it will remain to be seen if it's a TRUE country bar. Country music might not be QUITE as popular as it was twenty years ago, but still is one of the top genre's of music in the country. Millions tune into stations, buy the music and crave their country music (older or newer) every day. There is no reason Atlanta cant have a country bar that is nothing but country and be successful. Let's hope we see one very soon.