Georgia-Country.com Artist of the Month
On a monthly basis, Georgia-Country.com spotlights a Georgia artist that we feel is furthering their career in country music. Below is our current artist of the month. We hope you enjoy reading their interview and getting to know this artist more. Be sure to check out their music, videos and schedule for the month. If you are a Georgia-based artist, 18 and over, and would like to be considered for Artist of the Month, please contact us with your name and a website to review.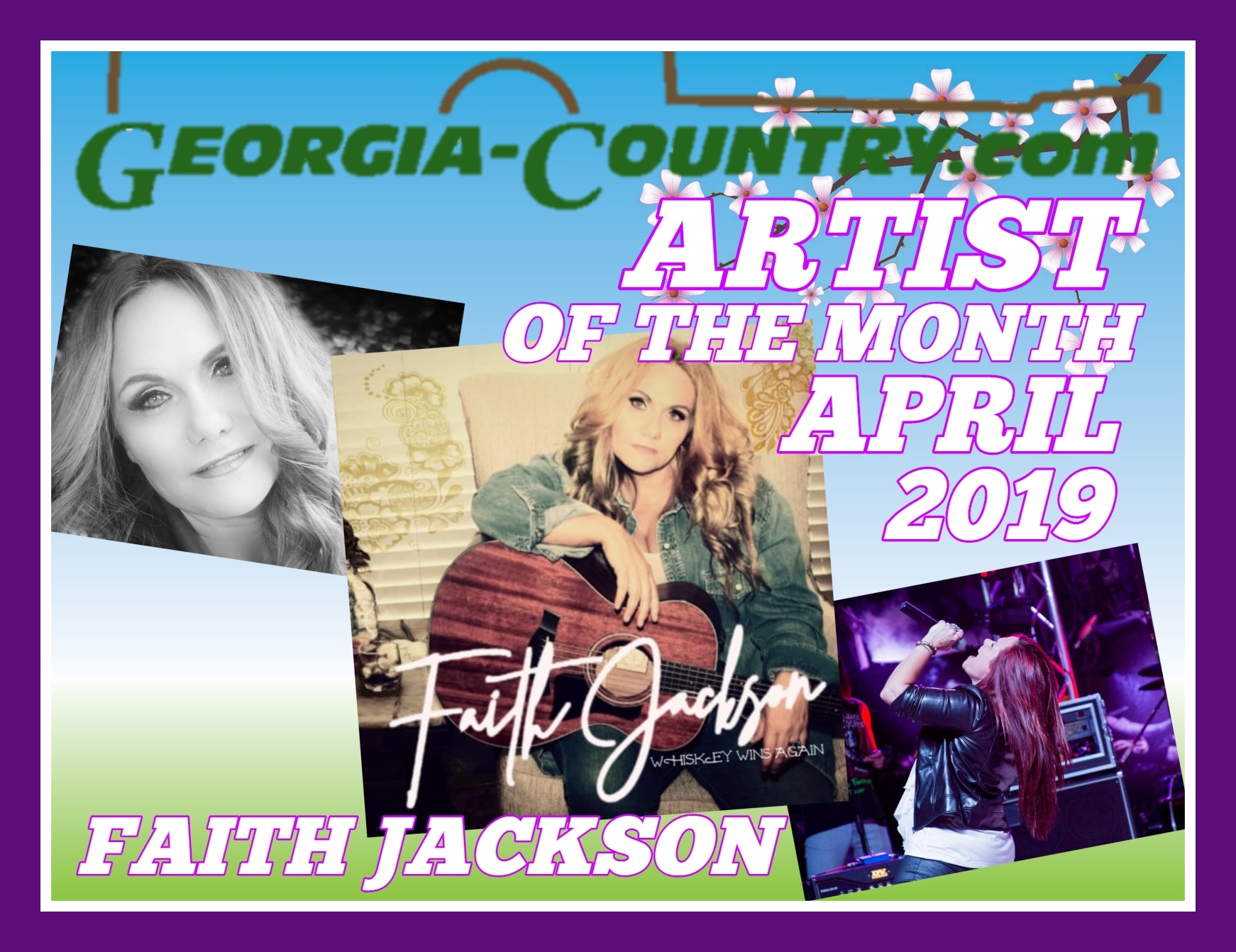 Our April Artist of the Month is Faith Jackson. Read her interview below as GC catches up with Faith and discuss her career. Then check out her music in videos at bottom of page.
GC: Faith, lets get Georgia familiar with you. Where were you born, raised and a little bit about your current family?
FJ: I was born in Moultrie, raised in Camilla, Ga, I now live in Tennessee. I have two girls. One lives in Colorado and the other in Valdosta, Ga.
GC: Who were your early influences in music?
FJ: Patsy Cline, Stevie Nicks, Loretta Lynn, Johnny Cash and Waylon
GC: When and where did you first perform in front of a crowd?
FJ: With a full band at a charity event in Loveland, Colorado
GC: When did you know you wanted to do this for a living?
FJ: I have always loved singing. My family always sang in church and family gatherings, but after I lost a baby I turned to music for comfort and it was in that experience I realized I wanted more from music than just be a listener, I wanted to create music.
GC: You play all over Georgia and the south, what is your favorite place to play and why?
FJ: Front porches and backyard because I love getting to know the people I play for. There is no better place to get to know the people you play for than at their home.
GC: What is your number one goal when you get on stage?
FJ: To give 200% of myself into my performance, and make sure those that paid to come to the show feel like they are a part of what we are doing on stage.
GC: You recently moved to Nashville? What brought you to that decision?
FJ: It was a career choice , but also I dream of mine.. I have always wanted to live in Tennessee since I was a little girl. I feel like moving her has allowed me to network and meet some wonderful other songwriters and industry professionals.
GC: Which would you rather do, open up for a major star or cut a single with a major star?
FJ: I have opened for several major stars, so I would love the opportunity to cut a single with one.
GC: Which current country acts do you admire most and why?
FJ: Miranda Lambert for sure, she is very honest with her music. I appreciate that, I also like artist such as Sturgill Simpson, Jason Isbell and Cadillac Three
GC: What plans do you have for the rest of 2019?
FJ: Currently I am writing allot, we just released a 4 song EP. I am also going back into the studio very soon to release a full album of songs that I have written alone and with some other talented writers. We also have several opening act shows this year.