Georgia-Country.com Artist of the Month
On a monthly basis, Georgia-Country.com spotlights a Georgia artist that we feel is furthering their career in country music. Below is our current artist of the month. We hope you enjoy reading their interview and getting to know this artist more. Be sure to check out their music, videos and schedule for the month. If you are a Georgia-based artist, 18 and over, and would like to be considered for Artist of the Month, please contact us with your name and a website to review.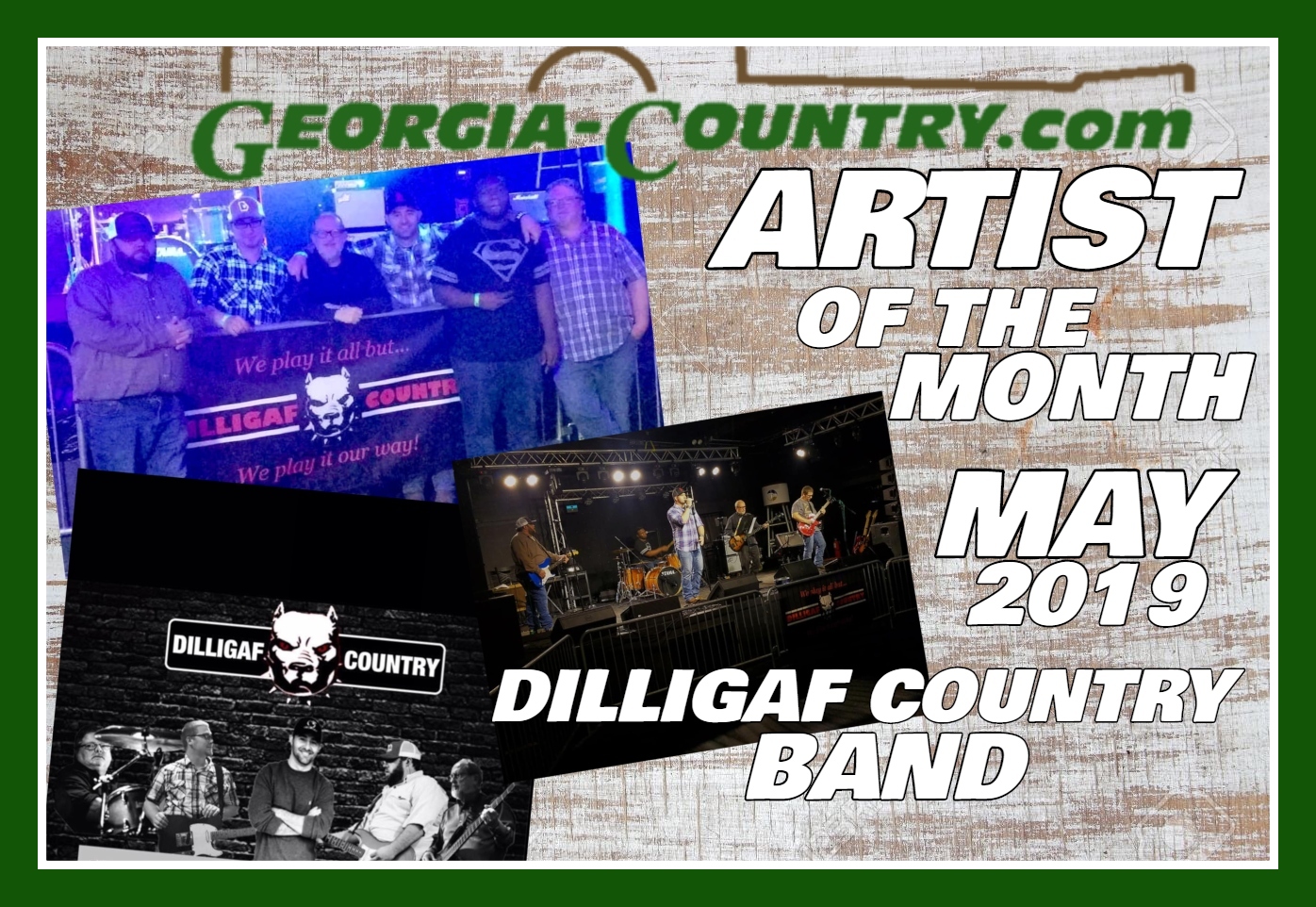 Our May Artist of the Month is The Dilligaf Country Band. Read their interview below as GC catches up with the band and discuss their career. Then check out their music in videos at bottom of page.
GC: Let's get familiar with the band. How did the band come together and when?
DCB: Well, the band started practicing in November of 2017. All five members of DILLIGAF had played together in previous bands, and there was great chemistry. It was just the right decision for us to come together and form a band. We did our first show at Kerrigan's in Lyons, Georgia. The crowd loved it and we went from there!
GC: Take us around the band, who plays what and their role with the band?
DCB: We kept it simple: lead guitar, rhythm guitar, bass and drums - with the occasional guest popping up. Lead vocalist/sound engineer is Michael Clements who resides in Swainsboro, Georgia. Lead guitar/vocals is David Hallman from Reidsville, Georgia. Rhythm guitar/vocals and heavy-stuff-picker-upper is Donny Rowell from Glennville, Georgia. Bass guitar/vocals is Dave Wallace from Ailey, Georgia, and on Drums is Frank Sherrod from Statesboro, Georgia. Our booking manager/media relations specialist is Stormy Clements from Swainsboro, Georgia. Stormy has her hands full keeping us straight.
GC: You all have a unique "name" for the band. Where did that come from?
DCB: We set up a practice show in Lake Sinclair's Shoulder Bone Campground before our first booked show, and we were still waffling about a name, lol. During the show a lady came up and asked for "Free Bird," and a man standing by the stage said, "They're playing good stuff, let 'em play what they play." The lady snapped back, and the guy said, "Does it look like I give a flip (he used a more colorful word) what you wanna hear? Matter of fact, think of them as the DILLIGAF band the rest of the night - they're gonna play what they want!" We kinda liked the idea, and The DILLIGAF Country Band was born, and the name stuck. We wanted a name to speak for all of us, not just one person. Our band works because we work together, and we play together as a team. Our egos are checked at the door. This is why it's not the Michael Clements Band or the Donny Rowell Band. We're a team.
GC: You all are a cover band that plays mostly country. Which type of country music do you all play mostly?
DCB: Honestly, all the members sing (except Frank). Michael tends to gravitate to 90s country and story ballads. He covers everything from The Kentucky Headhunters to Shenandoah, from Merle Haggard to Conway Twitty and up to Eric Church... and a little Luke Bryan, just because. Donny Rowell is a traditionalist at heart. He covers the Hank, Waylon, and Jones. David Hallman is our ace in the hole, handling the Southern Rock, Classic Rock and the New Country, so David may bounce from Blue on Black to Cole Swindell to Matchbox 20. Dave Wallace is our resident blues man, he turns out some mean mojo - to Jimmy Buffet. We bounce around a lot but stick to our style of country.
GC: You all play often. Where do you all enjoy playing mostly and why?
DCB: We play twice a month at Kerrigan's Country because that's home. But we love to play a new venue and meet new people. We've always said we don't have a fan base we have a friend base. There's no better feeling than to be on the stage you watched your idols play on. When we started, our goal was to play that bar, and now we're pretty much considered the house band. We get paid to turn up a Friday night in our hometown. There's nothing better than that, well maybe the Ryman, lol. We make sure to play at least two shows a month outside of our area, so we may be at The Blue Room, or Wrightsville American Legion, Swainsboro Moose, Barrelhouse Live, Gnat's Landing, The V, or some small stage somewhere.
GC: What is the NUMBER ONE goal the band has when getting on stage?
DCB: Our goal is to give anyone that shows up to our shows an excuse to leave the week's worries in the car. We want them to come in and be lifted up by an irresistible urge to sing along, to dance, to flirt, to forget they had a tough week, a breakup, a paper, a job... We want them to have as much fun as we are having on the stage! That's our goal if there's 10 or 1,000 at the show!
GC: What is the funniest thing that has happened to the band on stage?
DCB: Well, it's a toss-up. I mean, Josh Terry showing up in a tight mini skirt, tank top, make-up and wig and challenging Michael to a bull riding competition (Michael won) was a big one! But I believe our favorite was when Donny Rowell got soaked unloading the band trailer during set-up and had to take the stage in a fishing shirt, khaki shorts, and flip flops. Straight out of the gate, he got asked to sing Dinosaur. Just as he finished, and all 200 people noticed what he was wearing, the owner, Gerry, pops out over the house system, "I don't think Hank done it that way," and the whole bar cracked up and sent Fireball shots to the stage. That was our favorite funny moment!
GC: Where do you see country music going in the next few years?
DCB: I see the boundaries shifting a little back to the 90s and more traditional sound. I mean, our crowd seems to be a very diverse following. We have folks from all races and ages follow the page and speak up for what they want to hear. Our set list is a real hodgepodge, and that's where I see it going to survive. You have to keep people in the venues drinking and having fun, and that requires more than G, C, Em, D. People know what they want to hear. What's selling on downloads is what you HAVE to cover, but you have to balance that with not letting your four-hour show sound like one continuous song that sounds the same. I have faith someone is gonna come fill the shoes of the greats and give us something to cover! If not, our originals will!
GC: Since Georgia has lost almost ALL her country bars. Why do you think we have seen most of them close over the last several years?
DCB: DJs and Karaoke took Wednesday and Thursday nights from the live performers. Then, after a few weeks, it's the same karaoke singers singing the same songs, the DJ plays the same set lists, and people get bored. The owners cut the band nights to Friday and Saturday, and a lot of the unique bands just felt like it wasn't worth it to travel anymore and stopped playing the places. Now you have the local guys playing the same bars and the same set lists over and over. They share and borrow players, and, to me, it shows in the set lists. If you go to ten bars and listen to ten bands, 80% of the set lists are the same because they share musicians and they are generically playing together. People get tired of seeing the same people and hearing the same stuff. It's a delicate ecosystem, and you have to be careful to not let it die or stagnate! The bars have to offer a safe space and a fun environment.
GC: Does the band have any goals for the rest of 2019?
DCB: We want to record some of our originals, play the Georgia Country Awards show and have as much fun as we can with as many friends and fans as we can! We want to thank you guys for listening and were honored to share a little about us with you guys! Thanks for reading!