West Georgia Country Nights
West Georgia Country Nights will be a monthly country dance at Venue 1625 in Carrollton. Please check the schedule before for upcoming dates.

West Georgia Country Nights will be for country dancers that want a night of dancing that features the best country dance songs, especially from the 90s, the heyday of country dancing. There will be some classic and more modern hits mixed in, but songs that fit the dance styles of two stepping, waltz, east & west coast, chacha to line dance. And there will be plenty of ballads for the couples who may just want to slow dance as well. We will have some of the best country cover bands in the state playing every month. There will also be plenty of DJ music before the bands and on their breaks as well. We aim to be totally dancer friendly in being open to request, keeping the music mixed up month to month, so its NOT the same songs every month. Our mission is to make this night the BEST night in Georgia for great country dancing and music.
The venue will be smoking free with a outdoor smoking area. There will be a cash bar for your favorite drink, from water, soda to beer, wine and mix drinks. Age to get in will be 18+ and 21+ for adult beverages. We aim to have a safe, fun night of country music and dancing for all. Doors open at 7 and close around 12. .
Tickets. You can purchase advance tickets and/or to reserve a seat or table for the night below each date. You'll see buttons for single tickets to reserving a table starting at $10. SINGLE GENERAL ADMISSION is $10. RESERVED TABLE FOR 2 IS $20.00 RESERVED FULL TABLE that seats 8, are $75 . FULL TABLE that seats 10 are $95. (NOTE: Tables in GOLD are reserved) . ADVANCE TICKET SALES ends at 9pm the night before. Door admission will be $12 . Reserve seats and tables will be held up to 9:30. If not claimed by 9:30, they will be opened up for door admission. If you have any questions about tickets or anything else, please call us at 470-299-3901, M-F, 9am to 5pm.
(NOTE: There is NO HARD tickets for the night or we don't mail out tickets. Once you purchase tickets, you'll receive an email on information for the night. Your name or name of your party will then be on the will call list at the door. If you reserve a table for two, will will ask you if you want a table close to the stage or away from the stage. We will assign a table for you. You will be informed at check in where your table for 2 is).
NOV 2ND - HALLOWEEN PARTY WITH SOUTH OF NASHVILLE
South of Nashville has became one of our favorite bands at WGCN. They play a great assortment of 90's country hits with a few country classics and hits from today. They are a THREE TIME finalist for Band of the Year in the Georgia Country Awards and a Semi Finalist in the 2019 Georgia Country Awards. They have played some of the top venues in Georgia. This will be our Halloween Party full of spooky country songs to dance to, party treats and a costume party with a cash prize to the winner!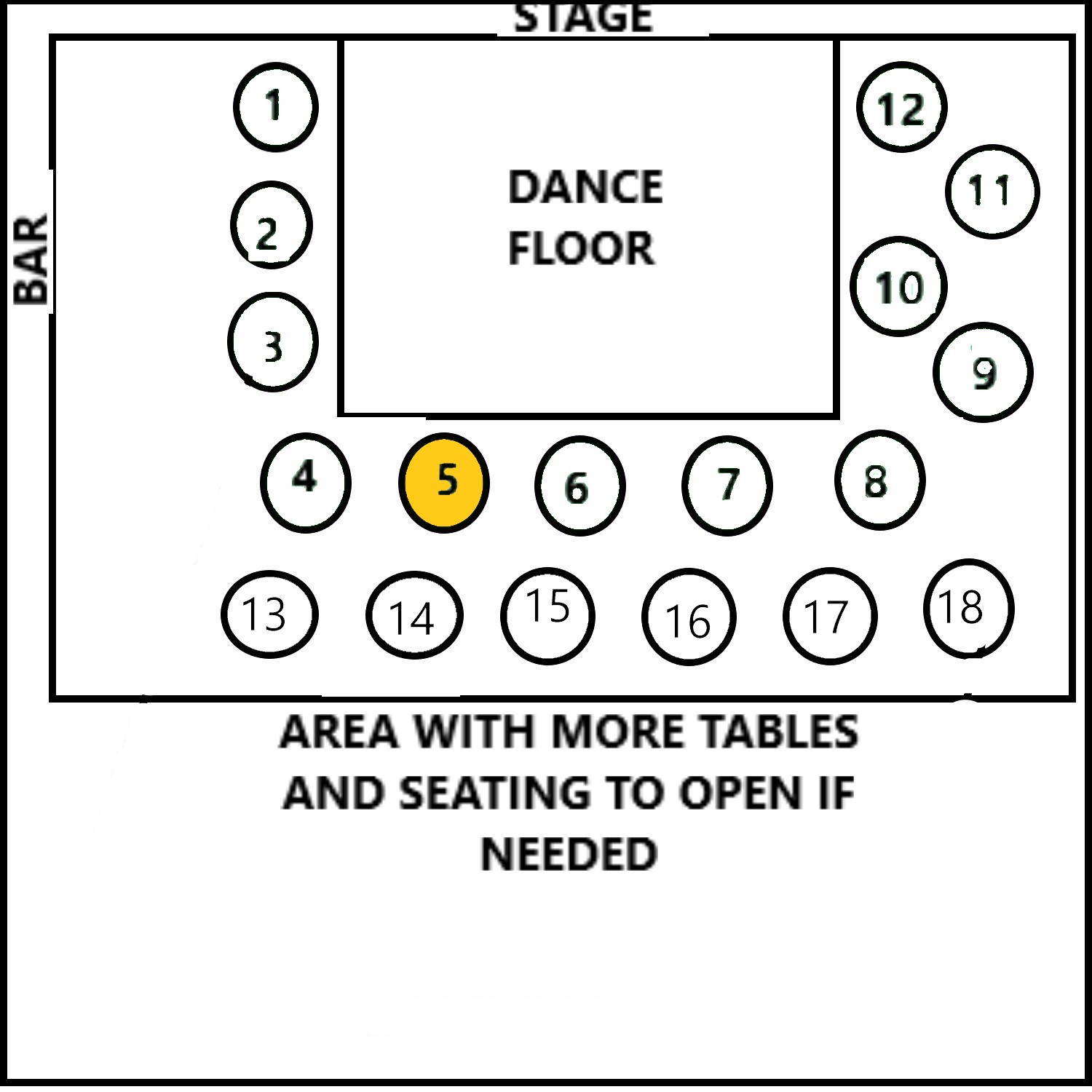 DECEMBER 31ST - NEW YEAR'S EVE DANCE WITH BRIAN CAMP & THE GEORGIA RIVER BAND
One of our favorite bands, Brian Camp & The Georgia River Band will help usher in 2020 with a country party for the ages. The band will be playing a great mix of older and newer country with a touch of classic rock, for all to dance the night away. Doors will open at 7. DJ dancing up to 9pm, when the band hits the stage. There will be an open buffett (menu below), cash bar and champagne toast at midnight. Also a balloon drop at midnight as well.
MENU: *Traditional Toss Salad with Buttermilk Ranch and Italian dressing , * Carved Roast Beef with Au Jus and horseradish sauce, * Chicken Florentine, * Mashed Potatoes w/ Gravy, * Roasted Harvest Vegatables, * Rolls with Butter, * Banana Pudding shooters, * Chocolate Mousse Shooters & * sweeten and unsweetened tea with lemon wedges, coffee and ice water! (This is the tentative menu, subject to minor changes).
Below is the seating chart. FULL reserved tables will be shown in GOLD. Tables in GREEN are open tables with single reserved seats. Once you purchase a seat or table, you will be emailed. If you purchased single seat(s), you will be notified what table your seat(s) will be at. If you purchase a full table, you'll be asked which table number you desire. All full reserved tables will be marked with with a name.